West Coast publisher Viz Media was the only publisher from this coast to attend NYCC and hold a panel. While their panels this late in the year usually consist of reiterating want was licensed at the beginning, this year they had two new licenses to announce. Tokyo Ghoul will be a Viz Signature title and So Cute It Hurts will be a Shojo Beat title.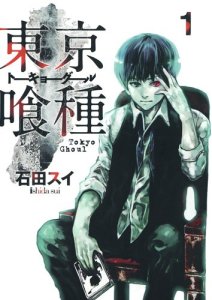 Tokyo Ghoul comes from Shueisha's Weekly Young Jump magazine. There are currently 14 volumes out in Japan. The series follows Ken Kaneki, an ordinary college student. Tokyo is being haunted by "ghouls," who devour humans and whose identities are shrouded in mystery, leaving people in the grip of panic. While at a coffee shop he likes to frequent, Kaneki meets Rize, an avid reader just like him. But his life is changed forever when he becomes the first half-human, half-ghoul hybrid. Straddling both worlds, he must survive Ghoul turf wars, learn about Ghoul society and master his new powers. Tokyo Ghoul recently had an anime that was streamed by Funimation, and has been on fans radars for a while. For me to enjoy a good action/horror title, it really has to be something really good. I just not sure Tokyo Ghoul will have the appeal I'm looking for. But there are plenty of fans out there it no doubt will. The first volume will be out in June of 2015.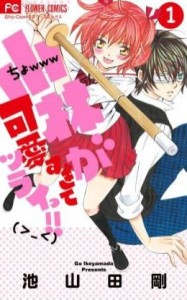 So Cute It Hurts comes out of the gate not being something I'm too interested in. This title runs in Shogakukan's ShoComi magazine and there are currently 8 volumes available in Japan. This series revolves around twins Mitsuru and Megumu Kobayashi. Megumu is good at history, Mitsuru not so much. In order to keep from loosing his weekends to extra history classes, Mitsuru convinces his sister to switch places with him, and help him pass his tests. What Megumu doesn't know, is that Mitsuru has been going to a school for delinquents, and when confronted by a gang of bullies, she meets a mysterious boy with an eye patch. I really don't care for gender swapping in titles, and this one doubles the whammy by it being twins doing the swap as well. This series will have to get a big wait and see from me. It might have potential. The first volume will be out in June of 2015.
Also discussed at their panel was the two initiatives started for Weekly Shonen Jump digital magazine. Jump Start and Jump Back. Cute names, huh? Jump Start is a way to bring over and preview new titles simultaneously with Japan. Several chapters of a new series will run as well as one-shots. Jump Back is a way to bring back older popular titles from their catalog. The first of these Jump Backs will be Death Note. Besides having cute names, I think these initiatives are great for readers of WSJ. They give new titles a wider reach, and could possibly lead to new licenses as well as introduce older titles to a new generation of fans who may have missed them the first time around.