Over the years, a lot of titles have been licensed and started, but never finished due to various circumstances, mostly because the company that released them went out of business. One of these companies was CMX, an imprint of DC Comics. The imprint was dropped suddenly after a leadership change at DC. One of the titles cut off midstream was Stolen Hearts, a very cute rom-com.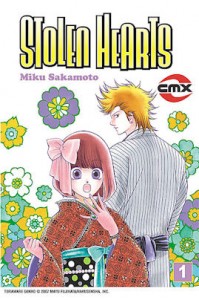 Stolen Hearts is about high school student Shinobu Okuma, a girl small for her age and Miharu Koguma, the biggest, most intimidating boy at school. Okuma accidentally spills milk on an antique kimono Koguma is carrying for his grandmother, and he has her come to his grandmother's kimono shop to make up for ruining it. Okuma is put to work wearing kimonos and walking around town handing out flyers about the shop. Not only does she have fun wearing all the cute, coordinated outfits, but she finds out that Koguma isn't as scary as he seems.
I loved this series from the first volume. Koguma and Okuma make a cute if mismatched couple. Both are rather shy, and Koguma, with his unruly hair and love for small, cute things is a great male lead. Okuma is small and cute, can be rather blunt, but is always upbeat. After she learns how kind Koguma is, she tries to get her friends and classmates to see it too. Once they do though, she finds she might have competition for his affections.
But the character that steals this series is Fujiko Koguma, Koguma's grandmother. She is the feisty, 76 year-old owner of the kimono shop. She loves money and has no problem smacking her grandson when she thinks he needs it. Even the local yakuza are intimidated by her. She steals practically every scene she's in, and has no end of money-making schemes to put Koguma and Okuma through.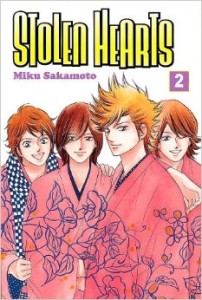 The second volume introduces the rest of Koguma's family; his three older brothers and parents. Koguma's brothers are as big and handsome as he is. His mother is funny, as she makes mountains of food to feed the big-appetited family, but also wants to treat Okuma as a surrogate daughter and dress her in kimonos. They are a tight family who love kimonos as much as the matriarch Fujiko. Oldest brother Miki even makes custom kimonos, and becomes part of another of Fujiko's schemes to make made-to-order kimonos at her shop for taller women.
But it can't be a rom-com without situations to get into. Okuma and Koguma get into plenty on their own between misunderstandings and Koguma's reputation and shy personality. The introduction of the brothers brings in a rivalry between Koguma and Miki, who decides to tease his younger brother but takes it too far. The situations never get too serious, but provide enough drama to balance against the comedy.
This is a title that so deserves a license rescue. It's six volumes total, though only two volumes made it to print in the US. This title falls into all the guideline most publishers have for manga licenses. It post 2000, and it's short. It's complete in 6 volumes. It didn't get very far in publishing here, with both volumes out of print and difficult to find. It was published by Hakusensha in Japan, so it doesn't have any associated publishers in the US, so it's open to anyone. This series would be a good addition to Viz Media's Viz Select line. It would fit in well with their other sweet Shojo Beat titles, if they wanted to go with print.
Also available in audio and video.