As I was pulling together titles for my post update on crafting manga, I remembered I had a couple of volumes of V.B. Rose. I won volume 7 from a blog a few years ago. I remember there being a lot of hype for the series back in the day, and being ever curious, wanted to see what all the hoopla was about. Then found volume 1 on Paperback Swap and snatched it up.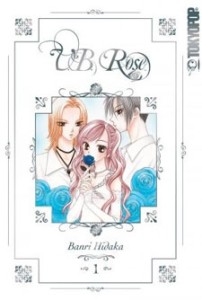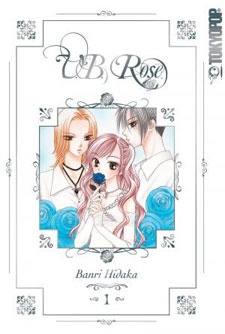 V.B. Rose is about high school student Ageha Shiroi. Her older sister Hibari, who she idolizes, is getting married and Ageha doesn't approve. But, Ageha loves weddings and can't resist when she is invited to see the dress design with Hibari at the boutique Velvet Blue Rose. The boutique is run by two men, Yukari Arisawa and Mitsuya Kuromine. Ageha gets off on the wrong foot with Yukari when she explodes over the wedding, and Yukari literally throws her out of the shop. Ageha, with the help of her friend Mamoru, realizes she did wrong and goes back to apologize. Things go awry again, and Mitsuya hurts his hand. Ageha volunteers to help out in Mitsuya's place. Yukari balks at first, but Ageha is very crafty, and already know for the handmade purses she makes for Hibari and her friends, so he relents. It becomes a race to get the Hibari's dress done on time as Ageha has to learn bead embroidery and how to deal with Yukari's strict management and Mitsuya's constant glomping.
I read volume 7 first and at the time wasn't too impressed. I passed on reviewing it since I didn't have anything useful to say. For this re-read, I read volume 1 first and then volume 7 and found I liked the series a whole lot more. The first volume set up the characters and relationships really well,  so when I got to volume 7, it wasn't difficult to see how they got there. I think when I first read volume 7, it just didn't work as well without that context.
Ageha and Yukari are amusing characters. Ageha is rather hot-headed and speaks without thinking, or worse, saying things she doesn't really mean. Yukari can be just as abrasive, saying exactly what he means, when he chooses to speak. He more often reacts first without full explaining why. This poor communication, or complete lack thereof, leads to misunderstandings between them. It's not so bad at first, when the misunderstandings are Ageha getting the wrong impression about what Yukari thinks of her craftwork. When it gets into their budding relationship, it's easy to see how this will only complicate things.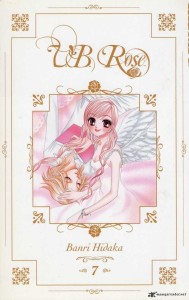 Ageha and Yukari are the main couple, but Ageha seems to have plenty of suitors for Yukari to worry about. Mitsuya isn't serious about his advances, but there are other men around who could be serious competition. Mamoru's younger brother, Nagare has feelings for her and declares them over Christmas, while Ageha is talking to Yukari. His anxiety over Ageha being courted by other men is fun to watch. Ageha has her own things to worry about as she wonders if Yukari's ex-girlfriend Kana, who he still works with, still has feelings for him.
Since the setting of this series is a wedding dress boutique, there are plenty of beautiful gowns. In volume 1, there is a gorgeous Chinese inspired gown I would have loved to have worn. The gown that Kana makes the corsage for in volume 7 is just elegant. Ageha's handmade purses are both cute and useful. What I wouldn't give for a friend that could make a custom bag.
V.B. Rose is a romantic comedy that is a lot of fun. Tokyopop originally licensed the series, and nearly published it complete. They released volume 13 the same month they shutdown, making this one of the most difficult volumes to find in English. The series was originally published by Hakusensha in Japan, a publisher that doesn't have an established relationship with a US publisher. This title would be a perfect candidate for Viz Media's Viz Select program. While I would prefer getting this series digitally, I do have to admit that Tokyopop's early prints of the series were very nicely done with gold imprinting on the cover to make it extra sparkly! Viz Select has already picked up and published several of Tokyopop's old titles digitally. V.B. Rose would be another great addition to this program. It is probably completely translated, and is a shojo title that would an ideal fit their Shojo Beat catalog.