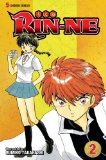 Rin-ne Volume 2

By Rumiko Takahashi
Publisher: Viz Media
Age Rating: Teen
Genre: Supernatural/Comedy
Price: $9.99/Free online
Rating:





It's more ghostly hijinks with Rin-ne and Sakura, as Rin-ne works to pay off his grandmother's debt to the spirit world.  The stories get longer in this volume, with more multi-chapter stories, but that doesn't mean they get any better.  More of Takahashi's formula kicks in as a new character are introduced with some petty motivations.