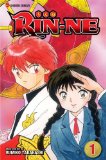 RIN-NE Volume 1

By Rumiko Takahashi
Publisher: Viz Media
Age Rating: Teen
Genre: Supernatural/Comedy
Price: $9.99/Free online
Rating:





Ever since a childhood incident Sakura Mamiya has had the power to see ghosts. Now her life has gotten a lot more complicated with the arrival of her mysterious classmate Rinne, who seems to know a thing or two about detecting ghosts himself!
Having enjoyed so far Takahashi's shonen titles since Urusei Yatsura, I was thrilled to hear that we in the US would not only be getting her newest, Rin-ne, at the same time as Japan, but it would available for free online to read.  Having now read the first volume's worth of chapters, I have to say my initial excitement may have been premature.
Rin-ne starts off like every other supernatural manga.  The main character, Sakura Mamiya, can see ghosts.  She doesn't want to of course, and they bother her since she can see and interact with them.  An incident in her past, when she was "spirited away", left her with the ability.  At school, she sees her classmate, Rinne Rokudo, but no one else can.  He gets swallowed up by the giant spirit of a Chihuahua and they both vanish.  Sakura believes Rinne to be another ghost, but bumps into him and finds him very real.  Sakura then gets swept up by a spirit who has merged with the chihuahua and is then rescued by Rinne.  Sakura then finds out that Rinne is a Shinigami, sort of.
The next seven chapters pretty much follow this formula, of someone being bothered by a spirit and asking Rinne for help, and Sakura gets tangled up with him while he works.  For being a shinigami is work.  Rinne won't do the work for nothing, and makes up a story at school about making an offering at an old weather hutch to get for and payment for taking care of spirits.  Apparently, he's in a lot of debt that was passed on to him by his grandmother, a true Shinigami, and he has to help pay it off.  This is the shtick of the series.  Rinne is poor and always in need of money.  He lives in the abandoned school house where he makes paper flowers (a favorite device for poor manga characters to make money).  His only clothes, besides his Haori of the Underworld, are his gym clothes from Junior High, and his food comes from offerings to the weather hutch.  I suppose this is all supposed to be funny, but it isn't really.
Nothing about this series or the characters really excited me.  The plot is pretty worn out and Rin-ne and Sakura are just plain boring.  There doesn't seem to be any chemistry between them.  Sakura just happens to be around when the spiritual things happen.  She doesn't seem to have any interest in Rinne, to like or hate.  She more like an observer, even when she gets pulled into the action.  Rinne seems to be only interested in her for money and/or food, though he's always comes to her rescue.  If there's a relationship supposed to be forming between them, it seems forced.
The only highlight of this series so far are the spirits.  Takahashi has always been able to come up with strange and interesting creatures, as Urusei Yatsura and Inuyasha have shown.  And some of the spirit creatures fit right up there.  I loved the chihuahua in his giant form, and better still, when he merges with the school boy ghost.  And then there's Rokumon, the Bakeneko, or demon cat that tries get Rinne to sign a contract with him.  In his demon form he's cool and scary at the same time!
Rin-ne seems to be an example of a mangaka finding a formula that works and sticking with it.  Takahashi's last three titles, Ranma 1/2, Inuyasha and now Rin-ne all feature a male protagonist after which the title is named.  The male protagonist is involved with some supernatural event (cursed ponds, half demon, human shinigami), and the female protagonist is the one grounded in reality that  gets attached to the male protagonist somehow.  Then they have all kinds of strange and funny adventures.  The first time it was funny, the second time was fun, but by the third time, it's getting old.
There is just nothing new or exciting about this title that makes me want to read it every week.  The art is pure Takahashi, and that's part of the problem.  It's the same characters in different costumes.  Rinne in his Haori looks like Inuyasha with shorter read hair.  It just feelings like more of the same, and after 94 volumes from the last two titles, getting a rehash doesn't fill me with anticipation.  I'm gonna keep up with it though, just to see if anything changes in later chapters.  But with the way things are going, it doesn't look too hopeful.