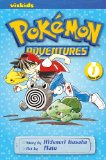 Pokémon Adventures Volume 1

By Hidenori Kusaka
Publisher: Viz Media
Age Rating: All Ages
Genre: Game/Action
Price: $7.99
Rating:





Red doesn't just want to train Pokémon, he wants to be their friend too. Bulbasaur and Poliwhirl seem game. But independent Pikachu won't be so easy to win over!
What was the story about?
This story is about a 10 year old trainer named Red.  He goes through many adventures.
What did you like about the story?
I loved the part when Bill was picked up by Fearow.  I just couldn't stop laughing at Mr. Director.  I love the part when a Pidgey poops on Professor Oak.  I think the pokemon Red chose were great because they help him.
What did you dislike about the story?
I just hate Blue for hurting the Kangaskhan and it's young.
Would you recommend the story to kids your age?  Why?
Yes, because pokemon are so loveable!