Recently, Amazon quietly announced a price drop for it's Kindle 2 e-reader.  Slashing $60 from the price to $299, the Kindle is now coming closer to the price of other ebook readers.  If Amazon wants the Kindle to be competitive in any way, it had too.  Sony, not to be out done, not only slashed prices, but also came out with two new devices.  The E-Reader Pocket for $199 and the E-Reader Touch for $299 and will be out by the end of August.  The older Sony E-Reader 505  is $279, and can be found at Staples stores now.  Bebook, another competitor is also $279.  Cooler Books has it's own e-reader now, the Cool Reader, which looks a lot like an iPod and comes in different colors, and is only $249.
The problem with most of these devices, is that they don't have internet connections. This problem is becoming more of a issue.  As more manga publishers put content online to be read either through their own readers (DMP) or through IE/Flash (Net Comics/Viz Media), manga readers need more flexibility.  E-readers are one-application devices.  They may be able to read different formats, and the Kindle may have a basic web browser, but that just won't cut it for the online content.  For that, a net book fits the bill perfectly.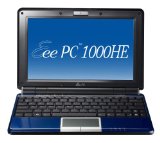 Netbooks look a lot like laptops, only smaller.  They use solid state hardware for storage and longer battery life, have screen sizeds ranging from 8.9″ to 13″, and are fitted with wifi.  But they aren't powerful like a laptop.  Netbooks are meant to be portable devices that let people get online to surf the net, check email, and text/twitter.  They are priced lower as well, averaging around $299-359, compared to $599 and up for a standard laptop.   It's not a good replacement for a laptop, but it a lot of potential for an alternative to the e-book reader.
Tech sites and blogs have been looking into the possibilities.  CNET did a piece on using a netbook as an e-book, including the software needed and a review of how well it worked.  Lillputing has an article as well, which  is more specific to comics and includes a video tutorial.  It's fairly easy to do, and most of the software is free.  The best recommendations I've heard are for the MSI Wind, Asus eeePC, and the Acer Aspire.
With manga publishers going to the web rather than Amazon, e-book readers are looking less and less like a good device for the manga-addicted.  We need something that can get us online, can install the viewers, and use the web browsers manga publishers require.  And since a lot of this content is coming to us for free, I for one won't complain to too loudly about the extra installs.  If the future of mobile digital manga is the web, then a netbook is the future device for it.
If only the future wouldn't keep changing so fast…