The January issue of Shojo Beat wasn't really anything exciting. The preview of Be With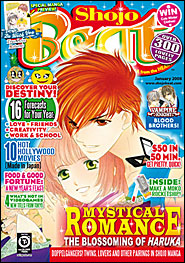 You didn't do anything for me. Haruka felt kind of disjointed, like panels were missing as the characters made huge leaps in time and space. On the plus side, Absolute Boyfriend is on it's last chapters, so with the end of that comes some relief. But I am still stuck with Vampire Knight, which was as predictable as ever. I'm liking Crimson Hero as long as they say on the game and Norbara's continued development. Honey and Clover had the obligatory Christmas chapters, and Sand Chronicles didn't make me cry this time. I did like the fortune telling feature. That was fun to check out. And the featurette on Japanese disaster movies. I really like those kinds of movies, and will have to try and find some of them such as the new Japan Sinks!
The February issue was a lot better. I loved the preview of Monkey High! Give me those snarky shojo protagonists! I liked Haruna, and Macharu is cute. I can't wait to read the whole volume!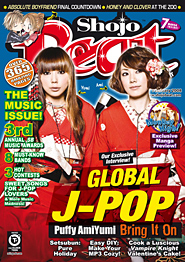 My faith in Haruka is restored after a moment of doubt with the last chapter. Lots of demon-y evil and priestess purity may get Akane to stop the swooning over the demon, especially since she's got some many bishonen surrounding her.
The waffling still isn't over with Absolute Boyfriend. Even after making her choice, Riiko can't stop being selfish and wanting both. I am so glad next issue is this title's last.
After some more good game play with Nobara and Ryo face off against two foreign Pro players, she seems to have finally found her groove in Crimson Hero. But it looks like the drama's coming back with the boys team. It seems they all missed Nobara will she was gone. Oh well, I guess it couldn't last forever.
It's melodrama overload in Vampire Knight, with twins Zero and Ichi now becoming sworn enemies, Yuki *still* trying to save the worthless Zero, and Kaname has a "heart wrenching" talk with Shizuka. Why is this so popular again?
Honey and Clover focuses on Mayama's unrequited love for and Hanamoto's past with Rika, while the rest of the gang is up to their usual antics at a hot spring and the zoo. The story of Hanamoto and Rika's past was especially good. It was very touching.
In Sand Chronicles, Ann learns the difficulty of long distance relationships, as she and Daigo try to keep in touch. Ann meets up with her friends from before going to Shimane and Fuji. With her birthday coming up, everyone is asking what she wants, and all she really wants is to she Daigo. While not enough to bring me to tears, these chapters are still very good, and the Fuji subplot is starting to go somewhere.
The February issue's focus was on J-pop, a style of music I've only just gotten into over the last few years. While I would listen to the openings and endings of anime shows, I never
really paid attention to the who the artists were. It was the attention that Puffy Ami Yumi got for doing the Teen Titans theme that made me start looking deeper. So, of course Puffy is now one of the groups I like. They remind me of Ushiroyubi Sasaregumi, who did most of the opening and endings for an anime called High School Kimengumi (very funny, will never be licensed).
The first opening for the Bleach anime, * Asterisk by Orange Range got me interested in them. I still haven't gotten tired of listening to that song, so to me that says good things about them. I've also checked out High and Mighty Color and Uverworld, who also did Bleach openings. But, if I had to choose a band that consistently puts out songs, anime related or not, that I really like, it would be L'Arc en Ciel.
I didn't really take notice of this group until they did the 2nd opening for Full Metal Alchemist, Ready, Steady, Go. After becoming addict to the song, I
started looking into their discography. They've been around for over 10 years, so there were a lot of albums available. The lead singer, Hyde, seems to be a big draw, and I will admit I do love his vocals. It's part of the reason I enjoy their music so much. They also get around quite a bit. As well as FMA, they have done the themes for the FMA Movie (Lost Heaven is my favorite), an ending for Rurouni Kenshin, the opening to Seirei no Morobito (Shine. Why won't they put out a single for this?!?!?), and the first opening to the current Mobile Suit Gundam 00 anime, Daybreak's Bell. There's just something about the music and vocals, and the way they come together, that I can listen to their songs over and over, and never get tired of them. They definitely get my vote for best group. Ever.