As Yura continues her foray into the glamorous world of acting, she's starting to learn that success is often marred with setbacks and compromises. Although she fails to land the lead role in a new drama penned by famous screenwriter Maki Todo, she does succeed in getting offered the part of the heroine's friend. However, her boss Keiichi cautions Yura that her increasing popularity will result in greater scrutiny of her private life by the paparazzi. Can Yura continue growing as an actress while keeping her budding relationships with Q-ta and Haruka in check?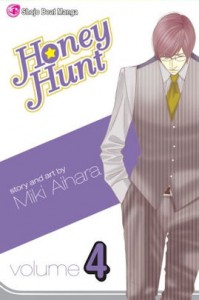 By Miki Aihara
Publisher: Viz Media/Shojo Beat
Age Rating: Teen+
Genre: Romance/Drama
Price: $9.99
Rating:






Buy This Book
The short answer? No. When I started reading Honey Hunt in Shojo Beat magazine, I thought it had a lot of potential. I really enjoyed the first 2 1/2 volumes. They concentrated on the building of Yura's career and her confidence as an actress, with just bits of budding relationships thrown in here and there. Volume 4 reverses that trend, and not in a good way.
Yura seemed to be on track to start her career. She showed she had guts by telling her parents off on TV, and then decided to be an actress herself despite her shy personality and the sheltered life she lived until then. She had shown she had talent and got the gig to start in a series of ramen noodle commercials. She was finally starting to go somewhere. At the start of this volume, the commercials were successful, and her face was starting to be seen everywhere. She auditioned for a part on a prime time TV drama, and even though she didn't get the lead, she did get a part, and it's soon to premiere.
But instead of continuing on the strong career story line, this volume careers off into the relationships with twin bothers Q-ta and Haruka, and then, just for good measure, and because a love triangle isn't enough, Yura's boss, Keiichi, is introduced as a possible love interest.  Huh? This comes out of absolutely nowhere. Every scene we've seen with Keiichi, is him pushing Yura to concentrate on building her career, but with a few panels, it all gets twisted around, and made to look like his interference with her relationships with the twins is personal. It makes what he's done seem like petty jealousy. I really didn't like this twist on Keiichi. He really didn't deserve it. I became interested in this title to see Yura best her mother, not to her fall for every guy that comes around and visa-versa.
And Yura shows herself to be pretty dumb. This disappoints me too, since I thought she was smart. She gives up her chance to have her first "family" celebration while watching her debut on the prime time TV drama to run off and be with Q-ta, and she lies to do it. Sure, you can chalk it up to her sheltered upbringing, and being naive, but is she serious about her career or just having a boyfriend? I'm getting to like Yura less and less.
I did like the bonus chapter at the end that was the first episode of the drama. In a manga all about making TV shows with scripts and rehearsals that we only get glimpses of, it's nice to be able to actually see the full story. Aihara's art has a rather distinct style.  It's clean and simple. It also appears to be more refined from her previous series Hot Gimmick. I enjoy it more.
Honey Hunt was on a good track, but if it continues in a direction that emphasizes Yura's relationships over her career, then I'm not interested. She needs to smarten up and fly right, because I want to see her show up her mother on the stage, and not in the bedroom.
Review copy provided by publsher. Images © Viz Media