The rumors started yesterday, but David Welsh of Comics Reporter  confirmed it today with Viz's Evelyn Dubocq via Twitter that the rumors were true.  Shojo Beat is being cancelled.
The manga magazine that started in 2005, about 2 years after it's older brother Shonen Jump, took over from another Viz publication, Animerica.  I know this very well, since I had just subscribed to Animerica after taking a hard look at the anime/manga magazines at the time.  One month after my first issue, I got the news that it was switching to Shojo Beat.
At the time, I wasn't reading any shojo.  I think the only shojo series I had read any of was Ceres Celestial Legend.  I'm not into too many chick things, and being told my magazine of choice was going to be replaced with one about "fashion, cooking and beauty" didn't make me too happy.  I thought I would hate the magazine.  But I decided to get the first issue and check it out.  Much to my surprise, I actually liked the titles that premiered.  Godchild and Nana sucked me in.  Kaze Hikaru and Baby and Me entertained, while Crimson Hero and Absolute Boyfriend passed the time.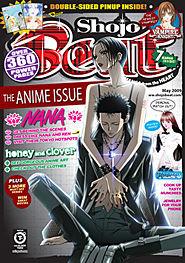 Over the last 4 years, Shojo Beat has changed it's titles a few times, some for better (Sand Chronicles, Honey & Clover), some not so better (Vampire Knight), but it was always a fun read.  Even some of the articles were interesting.  The Video games and the DIY crafts usually caught my eye.  I couldn't see trying to cook, let alone eat some of the recipes, but then, I'm not very adventurous with food.  The manga spotlights were good too, as there was a lot of shojo I hadn't read.  The previews that they ran also got me into other titles like La Corda d'Oro.
So, it is with great sadness that I bid farewell to Shojo Beat.  I never regretted reading any of it's titles even if not all of them thrilled me.  The magazine opened me up to a whole new world of manga that I probably wouldn't have taken a chance on before.  So thanks Shojo Beat for all the girly stuff you brought into my life.  You will be sorely missed.