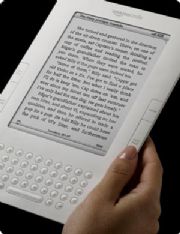 When I last looked at the Amazon Blogs, just after the Kindle 2.0 came out, there were no blogs available.  Whispernet is rather pointless if there aren't any books or blogs to get through it.  But that is starting to change finally.  A tweet from Erica Friedman about her Yuri blog Okazu being published on the Kindle made me take a look to see if there were any others.  I was pleasantly surprised to see there were a few others.
Comics Worth Reading is a group blog run by Johanna Draper Carlson.  It's a terrific place to get reviews of not just manga, but comics, graphic novels and everything related to them.
Okazu is run by Erica Friedman and is the oldest blog about Yuri manga.  You won't find better or comprehensive information on Yuri than here.
There it is, Plain as Daylight is a review blog by Melinda Beasi.  You'll find lots of reviews of manga and commentary here.
The Anime Almanac is a blog by Scott VonSchilling.  It covers manga, anime and commentary on the medium.
The Anime Blog is a group blog.  It covers anime and manga, as well as Japanese culture such as cooking, culture and fashion.
People may ask, "Why pay for something you can get for free?"  The answer is simple; convenience.  The big innovation of the Kindle is Whispernet, the ability to get content delivered immediately.  Getting a blog on your Kindle means you don't have to constantly check if there's an update.  It comes to you, ready to be read.  If you do subscribe to the Kindle edition of any of these blogs, give the bloggers feedback.  Help them improve your reading experience.