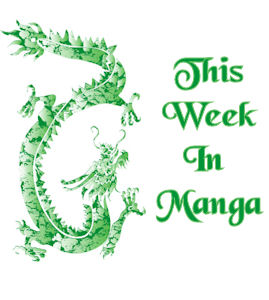 One Piece Exceeds 3 Million
The print run for the newest volume of One Piece has been reported to be 3 MILLION copies.  That's right, 3 million.  As the post points out, that's even more copies than the Japanese edition of Harry Potter and the Order of the Phoenix, which previous held the record for largest print run of a first edition.  That's quite an accomplishment, especially for a comic.  American publishers can only dream of print runs like this.  What's really sad though, is how under appreciated One Piece is in the US.  It should on the NYT list ever week with Naruto and Bleach!  Viz is doing a good job of making the manga available with their 3-in-1 for the early volumes and the catch-up to the Japanese releases.
March Moveable Manga Feast
The latest Moveable Manga Feast was this week, CMX's Emma being the series of topic.  This series' host is Matt Blind of the website Rocket Bomber.  A list of all the sites are participating is available, as well a synopsis of the series.  Lots of great writers participated in this round, and give lots of good reason to check out this under appreciated series, so be sure to check them out.  And the title for the next MMF has been chosen, Mushishi, with details to be forthcoming.
Fantagraphics Manga Line
Speculation started over the weekend with spotted Amazon listings.  On Monday came the confirmation.  Fantagraphics, which has published a few manga titles here and there, is now starting a manga line in conjunction with Shogakukan, that will be edited by Matt Thorn, Cultural Anthropologist and Manga Translator.  This has pleased a lot of the mangasphere, but none more than David Welsh of the Manga Curmudgeon.  You can find out everything possible about the announce in this link-stalking post here.  I really can't say more.
Back to School
Another comic reporter has written another piece about why he doesn't like manga.  Actually, he didn't even read a manga, but a manga-inspired book, Scott Pilgrim.  Kate Dacey of The Manga Critic responds to the piece not by just ranting (as I would), but by giving several helpful hints on how to sound like a real critic and not some forum board troll.  I really don't care if you like my medium of choice or not, but if you're going to pass yourself off as a critic and you're going to hate on medium, please have something more to say than "This sucks."  Thank you Kate for giving us a post to point to when we see the next article by a "critic" that needs some schooling.
Balance of Power
David Welsh weighs in on the scanlation debate that dominated most of last week's news, and endorses several of the legal options that are available to readers.  He goes one step further to suggest Viz create a site to replace Shojo Beat.  I have to say I wholeheartedly agree with this.  Over the last nine months, I have noticed a definite void in my life without Shojo Beat.  I may not have read every issue as soon as it came out, but reading them 2-3 at a time was fun, as it gave big chucks of story at one time.  It also helped break up the monotony that Shonen Jump is becoming, with practically all the series' being fighting titles, all in the middle of big, prolonged fights.  The aggregator sites that David mentioned in his post will never lose their dominance as long as a whole segment of the audience is ignored.  I'd even be willing to pay for an online version of Shojo Beat, as long as there wasn't a time limit on the chapters, and it had the same variety as the print mag did.  Shojo Beat was the balance to all the testosterone of the Shonen mags, and balance needs to be restored.
NYT Best Seller List
This week's list has more debuts, and plenty of titles with staying power as well.  It's a new #1 again, this time Bleach vol 30.  Naruto vol 47 holds it's #2 spot and last weeks #1, Negima! vol 25 falls two to #3.  Vampire Knight vol 9 hold it's #4 spot from last week as well, with Dark Hunters vol 2 debuting right behind at #5.  Soul Eater vol 2 falls three to #6, while Black Butler vol 1 steps back two more to #7.  The next debut title is Skip Beat vol 20, coming in at #8, followed by Alice in the Country of Hearts vol 1 which falls two to #9 and Vol 2 debuting at #10.  Viz has lost it's dominance of the list with only a 4/10 ratio.  Yen Press has a 2/10 as does Tokyopop, making this a truly healthly list.  As much as I love Viz and their titles, I can't help rooting for the underdog, which with this list has been just about every other manga publisher.  Tokyopop is really showing some signs of life with the strength of Alice, and Yen Press has been the closest to a competitor of all of them.  If only Del Rey could get a title to really stick…  I'm also glad to see another OEL title, Dark Hunters make an appearance.  They can succeed with the right artist and story.
Manga For Your Ears
Sci-Guys
Spiraken Manga Reviews
This Week at Manga Village
What I'm Reading
One Fine Day vol 1
Rin-Ne ch 29-38