This set of chapters starts out stumbling under the weight of more "been there, done that", but manages to shake some of it off by the end, leaving a volume of work that is at least palatable.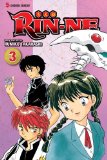 By Rumiko Takahashi
Publisher: Viz Media
Age Rating: Teen
Genre: Supernatural/Comedy
Price: $9.99/Free Online (Chapters 19-28)
Rating:






Buy This Book
Chapter 19 starts out with another typical shtick of Takahashi's; the rival love interest. Every one of her romantic comedies has one, all the way back to Urusei Yatsura, and Tsubasa Jumonji is right out of that boiler plate.  He tries to look cool and in control, but in reality he's just a bumbling fool.  He's ineffectual as a exorcist, his soul dust only causing people and spirits to cough, but not get rid of them.  Of course, he fell in love with Sakura when they were children.  Sakura was nice to him after he transferred to her school for a few days, and it was enough that now he's declaring his love for her, and treating Rinne as his rival.
These chapters also introduce the damashigami.  They are rogue shinigami that take the life of a person who isn't meant to die to fill their quota.  I found them to be an interesting development.  I prefer there to be some sort of antagonist outside the group rather than the infighting that usually runs through Takahashi's romantic comedies, or a new random ghost-villain every few chapters.  It's good to have a reason for all the rivals to come together and fight a common foe rather than each other all the time.
I still get a "meh" feeling about this series.  The introduction of the rival is another typical plot device that feels very tired to me.  Tsubasa just screams Mendo to me so much, it's not even funny.  However, I did enjoy the stand alone stories in this volume, especially the final one with the "ghost" haunting the art students.  These chapters play out as a nice little mystery, with an ending you might not expect.  The quality of the stand alone stories are improving, and if a plot other than Rinne's poorness is introduced, it could break up the "ghost of the week" feel the first two volumes had.  It's enough for me have hope for further improvement of the series as a whole, and to keep reading.