June and July 2009 mark the end of a four year run of Shojo Beat magazine.  Not that you could tell by reading them.  These last two issues feature more great previews, features and of course, chapters of manga.  Though nothing is said explicitly, there does appear to be some indication that the magazine was ending, but you wouldn't know it if you weren't really paying attention.
The June issue starts with some DIY projects for toys and cosplay and has an interview with creators of the X-men manga due from Del Rey Manga, and then more DIY sewing and cooking (it is the DIY issue after all).  There's a spotlight on Mixed Vegetables before jumping into the manga preview for Kimi Ni Todoki: From Me to You, which is also featured on the cover.  I wasn't sure if I would like this title judging from the cover, but the first chapter is definitely promising.  I look forward to reading the first volume and see if it holds up.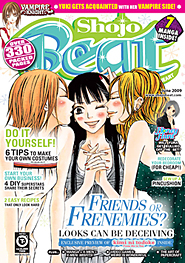 Of the regular titles, it's starts out with Honey Hunt, a title I didn't think I would like, but have turned out to really enjoy so far.  Yura, who I didn't really have a lot of hope for, has surprised me, and shown herself to be strong character.  Her two love interests seem to also really care for her.  She has to get through a reading with a well known actress and show herself capable and not at all like her mother.  Next is Vampire Knight.  Yeah…moving on.  Honey and Clover has Takemoto continuing his journey to see how far he could go, and gets a surprise from the construction workers he's been working with.  Hagu gets some unexpected help from one of her elementary school students that helps her through her artistic slump. In Sand Chronicles, Ann and Fuji relationship takes a down turn, Shika finally confronts her mother, Fuji and Daigo talk about Ann, and Ann get the biggest surprise that she's about to have a sibling.  Lots of good revelations in these chapters.  Top notch as always.  In Haruka, Akane goes to meet Inori to try and make some peace between him and Shimon on a day where it's not good for her to be out.  She meets the orphaned children at a burned out temple that Inori takes care off before being wisked away to an estate, where she meets a strange figure.  The final chapter in this issue goes to Crimson Hero.  Nobara is being harassed by Kaz, a rich kid that gets everything he wants, and now he want her.  Yushin comes to her rescue just in time.  The rest of the 1st years worry but, Nobara tries to hand things on her own, without involving them.  The final feature is about turning a craft into a career.
The final issue of Shojo Beat starts no different than any other.  There is nothig in the editor's letter about it, just that this issue's features will be about travel.  There is a side bar about this being Shojo Beat's birthday issue, it's 4th anniversary and looks at some of the issues from the past year.  There are some short articles on kimi no todoke becoming an anime, Viz's new sci-fi novel line, Shojo Manga award winners that Viz publishes, and fashion tips from fashion students.  DIY fans for summer, and food to go in the cooking section before getting to the spotlight on the new all ages manga Choco Mimi that also include some DIY projects Shojo Beat reader may enjoy.  Then it's the preview for the new title Black Bird by Kanoko Sakurakoji, the creator behind Backstage Prince, a title that ran (nearly) complete in Shojo Beat about 2 years ago.  I really enjoyed Backstage Prince and had high hopes for this title as well.  I wasn't disappointed fortunately.  I really enjoyed this preview as well, and can't wait to get into the full volume.
Jumping right into the regular manga, it starts out with Haruka.  Confinded to a room due to the monoimi, Akane has doubts about herself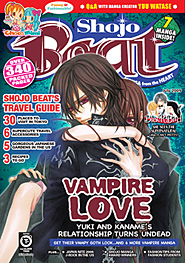 and her abilities.  Talking to Yorihisa, he speaks the fears she has only thought; she fears the Dragon God's powers.  Then she is visited by a messanger that helps her accept her power and that she can do something to stop the coming war.  It's good to finally see Akane take a stand and not be so wishy-washy all the time.  Hopefully, this will improve the title and give it more substance.  Next up is Honey and Clover.  Now on a good bike with decent supplies, Takemoto reaches the furthest tip of Japan and returns to the college just before summer vacation is over.  Hagu, who is sick greets Takemoto before them fall asleep holding hands.  Takemoto, now back is a little stronger (he can at least fend off Morita) and gets back to his job search.  The group go to a festival, where Takemoto tells Hagu how he feels about her, and then it back to business as usual, with no idea about what Hagu thinks.  A lot happens in Sand Chronicles.  It starts with how Kaeda met Ann's mother.  Then we see Ann and Fuji's relationship hasn't improved much, and Ann's grandparents come to Tokyo to visit for New Years, with her grandfather being a total tourist.  It's very funny.  Shika and Ann begin corresponding, both revealing this hopes and fears, finally being the real friends they both needed.  Then it's Vampire Knight, with confrontations, and angst, what it does best.  Crimson Hero has the boys and girls volleyball teams at the Newcomer's Tournament.  There is some girls team action, but this chapter focuses on the boys team pulling it together.  The issue ends with Honey Hunt.  Yura has to come up with a way to get into character during her reading.  She finally finds a way to get through the reading, but Mizorogi doesn't approve of Q-Ta getting close to Yura.  There are going to be some fireworks resulting from that for sure.  The issue ends with a guide to Tokyo, listing different places to see and some travel tips.
Now, there are two things about this issue that raise the flag that there won't be any more issues.  First, at the end of every manga segment, there is always a tease for the next issue.  This time though, the tease is for the next volume that will continue the story where the magazine left off.  Shojo Beat never did this before.  Second, there's no "Coming next month…" at the end of issue.  The final page would list all the regular manga with teasers about what's coming up.  Unless you were a regular reader, you wouldn't notice these differences.  I didn't notice the teases at the end of the chapters until I was half way through the magazine.  But no where else is there any indication or even a farewell to readers.  And I think that's really sad.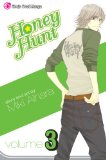 With the end of Shojo Beat, comes the most difficult part for me.  Choosing what titles to continue to follow.  There were six titles at it's end of publication.  Two are easy to cross off.  I've never liked Vampire Knight.  Not from the beginning, and nothing I've read since has changed my mind.  And Crimson Hero, while an engaging read once in a while, it isn't enough for me to want to follow.  Haruka~Beyond the Steam of Time~ I also enjoyed reading in the magazine, but just didn't like as much in volume format.  I probably won't follow that one either.  So that leave three titles; Sand Chronicles, Honey and Clover, and Honey Hunt.  I think as of now, Honey Hunt is a must for me.  I'm really intrigued by Yura's journey.  And if it came down to it, I'll probably follow Honey and Clover over Sand Chronicles, as Honey and Clover's drama isn't so melodramatic.  But, I'll just have to see what's coming out when it's time to order.
It's really sad to see Shojo Beat go, and I wonder, if all the people that posted they were a loyal reader of Shojo Beat but just didn't subscribe, if they had subscribed, would I be writing this post now?  Well, nothing to be done about it now.  Maybe some day there will be a magazine that us girls/women can have and call our own.  Obviously this just wasn't the time.