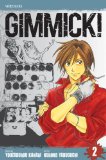 Gimmick! Volume 2

ByYouzaburou Kanari & Kuroko Yabuguchi
Publsiher: Viz Media
Genre: Action
Rating: T+ (Older Teens)
RRP: $9.99
ISBN: 1-4215-1779-5
Rating:





Volume 2 opens with the continuation of the Alien Panic storyline, Kohei and his partner Kannazuki are hot on the trail of the criminals who tricked him into constructing a complex alien animatronic creature in the last issue.  Now they're using the prop as a diversion while they commit crimes and Kohei is none to happy about it.  What's worse, the criminals have framed Kohei for their crimes!  Next, in The Mask of Del Fuego one-shot, Kohei helps a famous actor disguise himself from a stalker, only to find that she's not the only one out to get him.  Finally, in the beginning chapters of Over the Rainbow, a young woman named Mone is convinced that Kohei killed her father.  He has to find the truth and discovers it's closer than he thought.
Honestly, all I can say is if you liked the first volume, you'll enjoy this one as well, it's more of the same entertaining stories.  Kohei comes up with an endless array of nifty gadgets and gizmos, most of them pretty over-the-top, to save his never-ending list of clients.  I'll have to admit, however, that the "oh no, the police are after me" started to run very thin as time wore on in Alien Panic.  Also, I have to wonder where Kohei gets the time to create some of these masterful appliances, does he always wear a blood squib chestpiece, just on the off-chance he might get shot?  Some stories are a bit long on the "ooh, ah" factor, a little short on the logic.
That's not to say these aren't fun, light-hearted manga, the character of Kohei is wonderful, Kannazuki is fun to read about, and seeing how they get out of the various jams is always interesting, so long as you don't think about it too hard.  Just accept that whatever happens, happens, don't wonder why, don't try to figure out how, it just does.  If you can do that, you'll have a good time and blow some time chuckling.