Ayu still can't give up on her love for Mayama, even though his relationship with Rika seems to be deepening.  Nomiya's growing interest in Ayu might be a balm to her broken heart, but he's moving to Tottori for six months! Is Ayu cursed to suffer hopeless love affairs forever?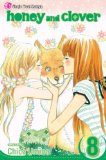 By Chica Umino
Publisher: Viz Media
Age Rating: Older Teen
Genre: Romance
Price: $9.99
Rating:





This volume is all about the love polygon of Mayama, Ayu, Rika and Nomiya.  Ayu seems to be deliberately torturing herself by working with Mayama and Rika, and seeing their relationship grow.  Rika is preparing for the Valencia Art Museum Annex, a project she and her late husband submitted for and won, and seems prepared to also make it her last, something Mayama's not prepared to let Rika do.  And Nomiya, the player, finds himself doing something he never thought he would, falling for Ayu.
There's a lot of drama going on in this volume, especially with Rika.  She still haven't been able to get over her husband's death, no matter what kind of face she puts on.  A flashback from Hanamoto shows what a difficult time she had after the accident, and how she became a ghost of herself, like part of her was lost with Harada.  Mayama seems to sense that too, as he watches over Rika, even to the point of invading her privacy by reading her emails.  But it doesn't feel like he's trying to be controlling or possessive.  He senses that she doesn't want to keep living and fights to keep her alive, despite her.  It's this that seems to make a stronger impression on her than his feelings for her.
Ayu's drama isn't any less than Rika, but it isn't quite as serious either.  Her problems are dealt with a lighter tone.  Though we see her suffering, her way of dealing with it is by eating.  A lot.  And when Nomiya gets involved, the humor really ramps up, as Ayu is shown to be surrounded by unicorns, intent on protecting Ayu's virtue.  Very aggressive and mouthy unicorns.  It's a really good balance of humor to the some of the tenser moments in the volume.  The unicorn appearances are my favorite scenes.
Honey and Clover continues to be a good romance that balances the drama without going over the melodramatic cliff, and makes a really good read for older audiences.  The relationships are realistic, making you want to laugh and cry.  This volume picks up right where Shojo Beat left off, so if you were following it in the magazine, this is a must have.  Even if you weren't, Honey & Clover is a title anyone who loves a good story should be reading.