Nicholas Harker discovered he is heir to the legacy of an ancestor he never knew he had: Dracula. Under his progenitor's evil influence, Nicholas has begun, with a vast fortune at his disposal, to rebuild Castle Dracula in the outskirts of Boston, leaving behind a wake of corpses. While the love of Jill Hawthorne seems to be the only thing that weakens Dracula's hold over Nicholas, Mason Renfield realizes he must remove her from the picture, in order to usher in the full reemergence of his dark lord. But Jill's new friend, the fiery wiccan Cate, has plans of her own—to destroy Nicholas and avenge her mother's death.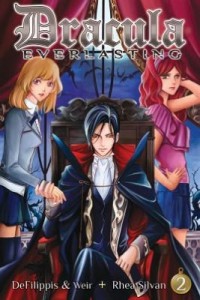 Story by Nunzio De Filippis & Christina Weir; Art by Rhea Silvan
Publisher: Seven Seas Entertainment
Age Rating: Teen
Genre: Supernatural
Price: $10.99
Rating:





After reading volume 1 of Dracula Everlasting, I had some doubts about the series. I was under the impression that Nick was to be the protagonist, but this volume proves that isn't the case. Cate and to some extent Jill are the ones to really move the story. While I do like good, strong female characters, as Cate and Jill are portrayed, I imagined a different story in my head. It's not that this story is bad. It's just not what I expected.
Cate, who was introduced half way through volume one, takes the initiative in this volume. She does the research and the footwork to put together an arsenal of holy water, silver bullets and stakes to use against Dracula. She also finds the Van Helsing who will be needed to defeat the vampire. It shouldn't be too much of a surprise who is it. Sadly she discovers this too late for Detective McAllister, who was her initial candidate. His spirit is still around, whether because of magic or his unsolved murder is unknown, but I do hope he comes in handy later. It's too bad he's gone. He and Cate make a cute couple.
The one person who isn't much help is Jill. She knows something is up with Nick, but doesn't do anything about it. She lets him kiss her, and then lets him push her away. Nick is stupid to use Jill as he does with just getting a touch from her and then bailing, but Jill should have been more assertive with him. He's obviously easily dominated. When Cate mentions her mother was killed by Dracula/Nick, Jill asks which victim she was without batting an eye. I'm glad Cate calls her on it, but she doesn't have a good response. I thought she was smart, but she falls too easily for Mason's advances. Again, it's Cate who has to verbally smack her to get her to wake up. I get that she doesn't believe Cate about her connection to the whole Dracula thing, but I really didn't like that it took killing her mother for her to finally accept it.
The middle volume in a three-volume series is usually the weakest, as it has to either keep the status quo, or be the dark before the dawn. This volume is the latter, but I enjoyed this one more than the first. Now that I realize that Nick is not the main character, but that the girls Jill and Cate are, the story makes more sense. It's nice to have a "Prince in distress" for a change. Though, I think the story I originally thought this would be, the internal struggle between Nick and Dracula, would still be interesting, if Nick had the will power. Another plus was that there were only a few scenes with the Renfields, which also included a possible foreshadowing of some just desserts for Mason.
I did like this second volume of Dracula Everlasting, but Cate was its saving grace. Without her, this would have been very dull with Jill doing nothing and Nick being the Prince of Darkness, asking why it's so important to dispose of a body, and shaking an old man fist at the cell phone. The lack of vampire action was a little disappointing too. There was only one on-screen kill, and the battle at the end. I'm gonna stick around to see the end of this series. I want to see the girls take out Dracula and find out if they can save the (cute) boy.
Digital review copy provided by publisher.