For recently turned vampire Minato Misaki, vampirism and the beastly powers that come with it are something that she wouldn't wish upon her worst enemy, let alone her beloved Kuroe. But Kuroe's supernatural investigations make him a regular target of not only vampires but of all sorts of undead creatures of the night. The only way to save him from these deadly threats may be to do the one thing that Misaki fears the most: to turn Kuroe into a vampire for his own protection.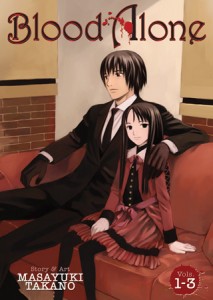 By Masayuki Takano
Publisher: Seven Seas Entertainment
Age Rating: Older Teen
Genre: Supernatural/Vampires/Horror
Price: $15.99
Rating:





I've had this volume in my review pile for a while, and kept meaning to read it. I'd heard a lot of good things about it, and after reading a review of it for the Manga Movable Feast I hosted last year, I was really interested, but I am easily distracted, and it was soon buried by the growing review pile. With this month's MMF being about vampires, it seemed the perfect time to dig it out. And I'm really glad I did. Blood Alone isn't the typical vampire series with a lot of angst and melodrama. Instead, it is populated with rich, interesting characters and a story that is a mix of slice of life and murder mystery with a sprinkling of vampires.
Blood Alone revolves around Kuroe, a former Vampire Hunter and Misaki, a young vampire girl. It might seem like an odd pairing, until you get to know them. As the story begins, we don't know how long they've been together, but it's obviously been a while, as they are comfortable with each other and have a set routine. Masaki isn't a vampire who just looks like a 10 to 12-year-old girl, she actually is still a tween. She doesn't like to sleep alone, is afraid of thunder, and can be melodramatic. She has a big time crush on Kuroe, and is quick to get jealous when any other women speak to him. She is sweet and innocent in a charming kind of way. She doesn't like being a vampire and hates having to drink blood. She doesn't know much about her new abilities, so it's cute when she tries them on Kuroe for the first time.
Kuroe appears rather laid back. He is a writer, but to cover bills between books he also works as a private investigator, taking jobs as varied as finding a lost cat to being a bodyguard. He appears unassuming, but he's actually a well-trained fighter and seems to have quite a reputation in the vampire community. He is absolutely devoted to Masaki, often worrying about her when she goes off on her own, and trying to give her time alone with him. His feeling for her however are much more of a brotherly kind. Kuroe doesn't appear to have an interest in anyone romantically. He was infatuated with his older sister, who was taken by a vampire several years earlier, and is probably the reason he became a Vampire Hunter. He does have a special ability that he earned while trying to save his sister. His eyes were wounded by the vampire, and now he can see when something is trying to be something it isn't. And he's immune to vampire tricks. A rather useful trait for a vampire hunter.
Assisting Kuroe and Masaki is an interesting supporting cast. Sayaka Sainome is a long time friend of Kuroe's who is the head of a police forensics department. She often asks Kuroe for help in cases where the supernatural might be involved. She is also Masaki's potentially biggest rival for Kuroe's attention. Higure is an elder vampire who looks like a boy, but is really very old. He controls the vampire territory where Kuroe and Misaki live, helping Misaki learn about her vampiric powers and tolerating Kuroe. Sly is an underworld figure who is a friend of both Kuroe and Misaki who also happens to be a vampire. He helps them out with information. His partner is a cat named Larry. While it doesn't seem right to call any cat "owned" by a human, it seems especially inappropriate for Larry.
The stories range from slice of life stories, such as Misaki's humming inspiring a down and out musician to write again, to murder mysteries, with Sayaka and Kuroe hunting down a serial killer's soul, to action with Kuroe fighting a vampire guild of assassins. The mix of stories keeps the series from getting boring or bogged down, as it never spends too much time on any vampire angst. The side characters get some attention too. Sayaka gets a story to work out issues she had with her deceased father. What I really enjoyed about this omnibus, was how easy it was to get lost in volume. At three volumes it was the perfect length, and the kinds of stories covered made for a perfect introduction to the characters and the world. The art is beautifully rendered as well. The characters never get too silly looking. All of their emotions are handled realistically, without being too realistic.
Blood Alone is exactly the kind of vampire title I've been looking for. It has a strong and varied range of characters and stories to suit. It has its own vampire mythos that doesn't stray far from established canon, and doesn't dwell on the angst of being a vampire. It acknowledges it without letting it overwhelm the story. This is a great title for readers who want more from their vampires than just killing things or moping. I highly recommend it.
Digital review copy provided by publisher.