After the gripping, eye-opening revelations of the 19th volume of the series, volume 20 has been given the unfortunate task of having to follow all of that up as the series begins to wrap things up. This volume can more or less be considered a set-up volume, as plenty of things are brought to light and loose ends are tied up from the previous volume, but the plot is nigh at a standstill.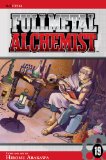 Originally reviewed by Matthew Rozier
By Hiromu Arakawa
Publisher: Viz Media
Age Rating: Teen (13+)
Genre: Adventure, Mystery
Price: $9.99
The previous volume finally revealed the origins of Hoenheim Elric, and one of the key moments in volume 20 is Alphonse encountering his father in the city Lior. Alphonse finally is able to ask Hoenheim about the mysterious figure lurking beneath Central, and Hoenheim proceeds to tell Alphonse the whole story. Hoenheim also brings up the subject of the "Day of Reckoning."
This "Day of Reckoning" is the major revelation of this volume, though to call it a "revelation" is a bit of a stretch. Not all that much information is actually divulged and readers are left waiting for future volumes to learn more. Edward also learns of this fated day from a surprising source, as one of the Homunculi has a change of heart. Word even spreads to Roy Mustang about this "Promised Day."
All of this adds up to a rather undercooked volume when it comes to Fullmetal Alchemist. A good bit of time has to be devoted to finding out the status of Edward following his injury in the previous volume. Dr. Marcoh does have a great moment when he stands up to Envy at the beginning of this volume, but Arakawa then makes the moment almost pointless soon after. The internal conflict of one the Homunculi, though it does have a purpose, ends up feeling like filler as Arakawa is trying figure out where to go with the story as it goes on maybe a little too long. The animosity within the Armstrong family and Izumi Curtis' insane way of spreading the news regarding the "Day of Reckoning" also feels like a ploy just to delay moving the plot forward.
While all of this set up is necessary, having to deal with an entire volume of it doesn't make for the most exciting of reads. However, the intrigue is still there, and things finally appear to be beginning to move towards the big finale. While not the best volume in the series by a long shot, it still does a decent job of setting up for the final stages of this popular, long-running series.