Though Elle wants nothing to do with fighting, her grandfather has different ideas and betrothes her to an up-and-coming boxer from his own gym. She hates the idea and doesn't want to marry him. One day she meets a handsome street brawler who intrigues her, but her jealous fiancé finds out and goes after the guy! What will happen when a trained boxer goes a couple rounds with a scrappy street fighter?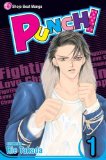 By Rie Takada
Publisher: Viz Media
Age Rating: OT
Genre: Shojo
Price: $8.99
Cheerful and energetic Elle Nagahara just wants to find a normal boyfriend. Sounds like any teenage girl except she is already engaged so the ever so handsome Ruo. Though she views her betrothed as a brother figure and tries to break off their relationship by seeking other boys that often fall victim to Ruo's fellow gym members. And her grandfather just so happens to be the owner of the gym. After growing up in an environment of seeing bloods and guts on the ring Elle no longer wants any part of any violence.
Though her stance begins to change when she encounters a street fighter named Kizuki at the mall one day. Now she begins to question whether or not she could be falling for fighter outside of the ring. By a string of events Kizuki ends up being accepted at Elle's grandfather's gym as Ruo's rival in both dojo and for Elle's heart.
Heavily laden with drama in almost every character's daily lives might be a bit too much to take at times though for the first volume it was not overwhelming. Often times I've encountered series where they try to cram in as much character background as possible so they can jump right into the plot line. This series breaks that mold by showing the characters develop as the reader anticipates the unraveling of budding romances mixed with the tightened grip of Ruo as he now faces someone worthy to be his rival.
For a quick read I highly recommended this three-volume series. As a fan of Rie Takada's Happy Hustle High I was eager to see what Punch! had to offer and I'm sure her fans will not be disappointed with this drama series laced with, at times, much-needed comic relief!