Yen Plus is Yen Press' monthly manga magazine.  It's about 450 pages of mostly pure manga, and divided into two sections.  One side reads left to right (western style) and is composed of OEL and Korean titles.  The other side reads right to left (Japanese style) and is all Japanese titles.  The magazine carries between 10-12 titles, some titles occasionally taking a month "off".  For example, in this issue, Maximum Ride and Sumomomo Momomo did not have chapters, making for only 10 titles.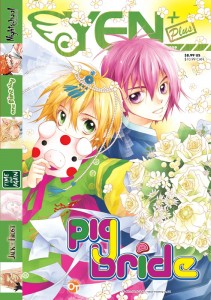 By Various
Publisher:  Yen Press
Age Rating: Older Teen
Genre: Action/Romance/Supernatural/Horror/Slice of Life
Price $8.99
On the OEL/Korean side, the titles that ran this month are Nightschool: The Weirn Books, Pig Bride, Time and Again, Jack Frost and One Fine Day.  These are all strong titles, making this side of the magazine most enjoyable.
Nightschool by Sveltlana Chmakova is a supernatural adventure story about a girl named Alex who is a weirn, a kind of witch who seems tied to some sort of dark future.  Sveltlana's art is beautifully done and her story remains intriguing month after month.
Pig Bride is a romantic comedy.  Si-Joon Lee, when he was young, got himself engaged to Mu-Yeoh Park, a girl who wears a pig mask.  She has come to claim her fiance, and has brought a load of trouble with him.  Great characters combined with both comedy and some drama make this one of the best titles in the magazine and a strong anchor.
Time and Again is a recent edition, starting this year.  Baek-On Ju is a wandering exorcist and Ho-Yeon Won is his bodyguard.  Together they travel the countryside, encountering spirits and humans, going up against both.  The stories in this title delve a lot into Korean ghosts, demons and belief in karma and reincarnation.  The stories can be bloody, but very poignant.
Jack Frost is a horror story, starting out to look a lot like Hellsing, but has evolved into its own.  Noh-A Joo is a new transfer student to Amityville Private High School, and a being gifted with immortality and whose blood can heal others.  She is also wanted by the Immortalizers.  Her protector is the brutal Jack Frost.  There is a lot of blood and decapitation in this series, but it has a real story if you stick with it long enough.
One Fine Day is the only all ages title in this magazine otherwise filled with teen/older teen titles.  It's about three animals, a dog, a cat and a mouse, who live with No-ah, a novice apprentice.  The chapters follow the three animals daily activities as they discover new things and get into trouble.  The stories are light and often cute.  They are easily enjoyed by all ages.
Included in this issue was a one-shot story and the first of two a chapter preview of a title soon to be published by Yen.  The one-shot was Prom Night by George Alexopoulos.  It's a story of a boy asking a girl to Prom, and then trying to come up with the money to go.  The characters are awkward teens, not your average good-looking, popular kids usually seen in manga or comics.  They look and act like real kids which is what really makes the story work.  The Preview story is for Raiders.  In the first chapter we meet Irel, a young man about to rob an old church that is protected by armed forces.  He is discovered and makes an exciting and dramatic escape.  The story has a very Indiana Jones/Tomb Raider feel to it, and looks to be a great read, especially if you like that kind of adventure.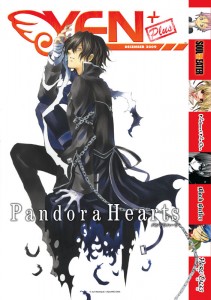 The Japanese side ran the titles Soul Eater, Nabari no Ou, Black Butler, Pandora Hearts and Hero Tales. It starts out with Soul Eater, a title hyped by both Yen and fans.  Maka is a scythe meister, trying to make her weapon, Soul Eater, into the strongest weapon ever.  The chapter in this issue doesn't feature the main characters, but a shinigami, or soul reaper and his weapons.  Soul Eater is an average action/supernatural title with a large side of fan service.  It failed to impress me.
Nabari no Ou is about Miharu Rokujou, an apathetic boy who is also possessed by the Shinra Banshou, the ultimate ninja art.  He is drawn into the battle as rival ninja clans fight to posses him and the Shinra Banshou.  This title is on the edge for me.  Miharu's apathy makes him different from other shonen protagonists, but not necessarily interesting.  The story does take some interesting turns.
Black Butler just started with the August issue and is still gaining its legs.  Ciel Phantomhive is the Earl and head of the Phantomhive family in 19th century England.  Sebastian is his butler, and not an ordinary one at that.  In this chapter, we learn more about Sebastian and why he works for Ciel.  The story and art for this title has been great and deserves the praise it's gotten.
Pandora Hearts is a strange take on the Alice in Wonderland story.  Oz Vessalius was imprisoned in the Abyss, but escaped thanks to the help of Alice, a girl with no memories and the powers of the B-Rabbit.  Alice and Oz agree to work for the Pandora organization to find out who imprisoned Oz and get Alice's memories back.  I had my doubts about this title, but it's turned out to have a fascinating mystery.  It's definitely worth the read.
Hero Tales is by Hiromu Arakawa, the creator of Fullmetal Alchemist, and this story is no less epic or engaging.  Taitou Shirei is the Hagun, one of the cursed stars in the Big Dipper.  He, with his sister and two of the Hokushin Tenkun, other warriors tied to the constellation, go in search of the Kenkaranbu and it's thief Keirou Hakuhou.  Set in Ancient China, this action adventure has all of Arakawa's great art and a story worthy of it.
Yen Plus has gone through a lot of changes in the past year, switching out titles and giving other time off to feature others.  The magazine as it is now has a good balance of genres with at least one title to please anyone.  Though, at its price, it really needs more than one to make it worth the monthly purchase.  But, the emphasis on manga and less on articles about TV shows or video and card games make it more relevant to adult readers and not just teens.  There are ads in the magazine, but are mostly in-house to Yen Press, and Little Brown, another  imprint under Hachette.