Getting a book in the mail that you didn't order or didn't think you wanted to have can end up being a mini-Christmas. I love Christmas. That is why, when Daniella Orihuela-Gruber threw out the idea of having a manga exchange, sort of like a pen-pal arrangement, I jumped right on it. Having someone decide what you're getting is a thrilling experience. I sent Ed Sizemore the first volume of Aishiteruze Baby, and received the One Piece vol. 1-3 omnibus from Jammer of Jammer's Animovie Blog.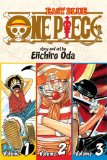 By Eiichiro Oda
Publisher: Viz Media
Age Rating: Teen
Genre: Action
Price: $14.99
I've heard stories about One Piece. I've seen the rave reviews. I've read how some of my favorite manga bloggers are in love with the book. Yet, up until Jammer sent me the first three volumes of the series, I had never thought of picking it up, or even borrowing it from the local library. Where One Piece should be a part of my "manga awareness," instead there was a blank spot. With Jammer's help and Daniella's guidance, I'm getting a chance to finally see what the hype is about.
One Piece starts by introducing the main character, a one Monkey D. Luffy, who is a wannabe pirate and high adventurer. As a kid, he looks up to "Red-Haired" Shanks, a pirate that visits Luffy's hometown while he's out sailing. Luffy ends up eating a piece of fruit that Shanks found as treasure, and in return has been given the power to stretch like an elastic man. In return, he can't swim at all! What a pirate, right?
In the first three volumes, we see Luffy sail about and start to put together members of his pirate crew.  His strange abilities coupled with other skilled characters, along with a healthy dollop of shonen ethic make this piecemeal crew a really interesting bunch to read about, and a compelling group that keeps you turning the pages. Add to this a bunch of really odd bad guys, like a clown pirate that comes apart at the seams and a crazy marine officer who has a metal arm, and I think that I'm starting to understand the appeal. It may be ludicrous, but it works, and it's a lot of fun to read.
My only real complaint about the book, is well, the book. Viz, in their efforts to create an omnibus for less money than the original three books, has delivered a good price point. They've also delivered some sort of throwback paper quality that makes me think of the kind of paper anthologies are printed on. This may be a bit of an exaggeration, but Viz is keeping prices low on their books by delivering an inferior book – compare the page quality with that of any Yen Press book, and you'll see what I'm talking about.
I've been told that the series doesn't really catch stride until about book nine, but you could have fooled me with the first three volumes. I'm delighted to have been a part of the initial Manga Letter Exchange, and I'm delighted with One Piece. The 3-volume omnibus is a great buy, and a good introduction to one of the best shonen comics in print right now. Pick it up; you won't regret it.