I have to blame my current shojo addiction on David Welsh, of the Manga Curmudgeon, and my own blogger's  nagging insecurity that I've been missing out on something. When I first started up the manwha Pig Bride from Yen Press and Viz Media's Aishiteruze Baby, I found out that this girly, sparkly, cutesy manga was… actually, a lot of fun. A guilty pleasure, if you will.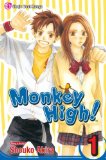 By Shouko Akira
Publisher: Viz Media
Age Rating: Teen
Genre: High School/Romance
Price: $8.99
Like shonen manga, shojo tends to fall into categories, and the high-school love story is pretty popular. There are others, like the reverse harem for example, but some of the more interesting series (in my opinion) on the market right now are high-school love stories –  Kimi ni Todoke, We Were There, and Itazura Na Kiss are fantastic. Monkey High! is another high-school romance, but does things a bit differently.
In Monkey High!, female lead Haruna Aizawa is an uncharacteristically cold girl who, probably due to a recent scandal her politician father has been in, tends to think that everyone in high-school is just playing on a monkey mountain. She's seen her "friends" from K Academy leave her, and it feels like she's been hurt and is walling off all that emotion in this jaded exterior.
Her male lead counterpart is a goofy, no-holds barred class clown named Macharu Yamashita, who even reminds Haruna of a baby monkey. Once he meets the new girl, he sets about cracking her facade, and we get to see a different part of the main character every time they interact – the sincere, caring part that wants to be accepted and have friends, just like everyone else.
These roles are generally reversed. We often see a hardworking, cheerful girl going after some cold and aloof hottie (see Itazura na Kiss). The standard formula turned on its nose doesn't really make things unique, but it does generate some interesting situations in the first and third chapters. Nothing really groundbreaking, but a solid attempt at being different, even if it's just a little bit.
It's this battle, the struggle between Haruna's jaded exterior wall and her true feelings that make up the majority of the exposition in this first volume of Monkey High! and I think that it puts things at a rather nice pace, in regards to character development (we'll get to relationship development in a bit). We see Macharu pull her into activities and see her forced out of her comfort zone to do things she'd rather not do in the name of staying emotionally distant from her classmates.
The story isn't without flaws – the main relationship seems to develop too quickly; Haruna almost immediately starts falling for Macharu, and he's not the "pick of the litter" as the other girls in class might think. To be fair, the time in this volume seems to progress rather quickly. Chapter two is a field trip that looks like it's in mid to late fall, and chapter three starts in the middle of the Christmas season. This makes the time line a little more acceptable, but it still seems a bit fast. A quickly developing relationship isn't the death knell for any of the shojo I read, but I've grown more accustomed to relationships that take a while to pan out, and while the Macharu/Haruna relationship doesn't seem extremely forced, it does come on a bit strong and a bit quick.
The rom-com elements of Monkey High! make up for some of the unsatisfactory timing of the series. Scenes in chapter two and three really made me laugh, and I loved some of the squabbles in the second chapter. Having Haruna become one of the dwarves in chapter one for the school play was also very fun, and the end played out rather unexpectedly, and in a humorous way. Overall, while it wasn't gut-busting humor, it was generally fun and cute.
The art is nothing to write home about, but it is well constructed. There are few mistakes, but nothing like the train wreck of the shojo Magic Touch. The frills, sparkles, lens-flare, and flowers aren't unbearable, and the art flows well from page to page, but doesn't really impress me. It's that same generic shojo style I'm coming to expect from Viz's Shojo Beat line. I don't think that the art is necessarily a detractor for this manga, it's just not that exceptional.
All told, Monkey High! is a fun, cute little romp; while it doesn't excel to new heights, it traverses some worn paths with a slightly different step.