Thus far, Arai has successfully concealed her true identity from Kentarou, who doesn't suspect in the least that his huffy housemate is actually his dearest childhood friend, Shi-chan. But Kentarou's little sister sees right through Arai's disguise when she makes a surprise visit. Now Arai is at the mercy of the little devil's whims, lest anyone else find her out! But when Karen's future at Wakaba-Soh is threatened, Arai may be forced to expose herself as Shi-chan to Kentarou. Can his feelings for Shi-chan ever apply to Arai? Or has Karen already claimed his heart? Find out in the final volume of Welcome to Wakaba-Soh!
Originally reviewed by Matthew Rozier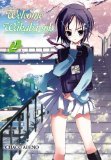 By Chaco Abeno
Publisher: Yen Press
Age Rating: Older Teen
Genre: Romance/Comedy
Price: $10.99
 The second, and final, volume of Chaco Abeno's Welcome to Wakaba-Soh is a light read of a romantic comedy, harem style. This last volume focuses on Arai who is trying to keep her secret from Kentarou that she is actually his beloved childhood friend. This slice of life manga's protagonist Kentarou seems innocently clueless about the true identity of Arai.
The lack of focus, or plot at all, makes it hard as a reader to know what is going on in certain panels. It seemed like there was too many characters clustered in the last volume to gain any more insight into the plot or to even care about them at all. The only plus to this series is that it is only two volumes long, I think anymore and it would have become too painful to continue. I give props to the creator for knowing when it's time to quit as I've encountered quite a few series that should have ended sooner. The first few pages of this volume seemed a bit risky in that it just seemed so out-of-place and didn't really add much to the story overall.
If you are looking for a light quick read, and expect nothing more, then pick up this two-volume series. The cute girls along with the surprisingly seductive color pages at the beginning of the book may capture the reader's attention but not for long. Though it may be taboo to judge a book by its cover, I really liked the pink cherry blossoms on the front of the book, and sadly that's about it.