Every week, the Manga Villagers will go through the new releases for the week and pick out the titles they are most looking forward to reading. Whether it's buying or just window shopping, check out what we're looking at every week!
Week Ending 9/8/2012: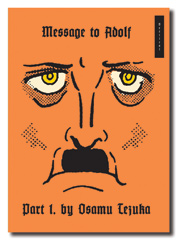 Lori: There's a lot to love this week! Vertical pours on the cuteness with a new Chi's Sweet Home, and then goes back to World War II with a new edition of the previously out of print Message to Adolf. I've been curious about this one for a while. From Viz, I can't believe there's another new Bakuman that I just gotta have, and finally we get a new volume of Fushigi Yugi: Genbu Kaiden! And the shojo just keeps coming with Library Wars and The Earl and the Fairy! Goodbye paycheck!
Amy: I'm always thrilled to see another volume of Chi's Sweet Home being released but what I have been waiting for is Loveless volume 9. I truly doubted that after Tokyopop was no more that this series would never see the light of day. Despite what some fans have said about this volume (both negative and positive) I can't wait to finally own it and read for myself. I'm so happy to finally see Loveless get some love
Alex: This week, the big pick for me is Message to Adolf. Tezuka, and especially a Vertical release of a Tezuka title, is always a reason to get out the wallet. I've wanted this title for quite some time, so I'll be buying this volume, and pushing off the rest of the list for next week.