Every week, the Manga Villagers will go through the new releases for the week and pick out the titles they are most looking forward to reading. Whether it's buying or just window shopping, check out what we're looking at every week!
Week Ending 9/1/2012: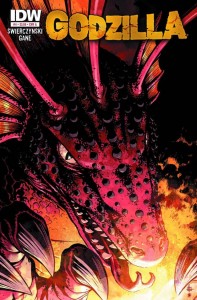 Alex: Only one volume of manga reaching shelves in this week's set of releases, Gon vol. 7, from Kodansha. I'm not particularly interested in this 3rd printing of Gon, so I'll grab a copy of Chew: Secret Agent Poyo. Sorry manga folks!
Lori: The end of the month is never pretty, and a month with a fifth Wednesday can be like a contender for the ugliest dog in the world. This week appears to be that week. Since I finished my Gon collection back when CMX was putting it out, I'm gonna join Alex with some comics picks. Being a huge Daikaiju fan, I must have the new issue of Godzilla, IDW's 4th series to feature the massive monster. At least it's related to Japan.
Amy:  Wow! There is soo many manga titles being released this week that the burden to choose just one is too hard to bear. 🙂 I'm going to save up for September releases instead. Though this may be a good week to actually tackle my looming to-be-read pile of manga.