Every week, the Manga Villagers will go through the new releases for the week and pick out the titles they are most looking forward to reading. Whether it's buying or just window shopping, check out what we're looking at every week!
Week Ending 9/29/2012: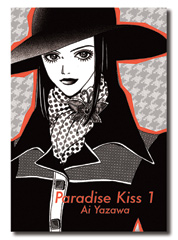 Lori: I have a love/hate relationship with Raiders from Yen Press. The whole story is just ludicrous, but I still have to find out what going to happen next, so I will be reading volume 8. I'll also be picking up Urameshiya volume 3 from Jmanga. I love historical and supernatural stories, and this title is both.
Amy: I'm looking forward to re-visiting Ai Yazawa's Paradise Kiss via Vertical's omni release of Part 1. As one of the first shojo series I read that wasn't all sparkle and glitz I'm excited to see this series be released again for new readers and fans alike.