It makes sense to me that one of the most cutting edge manga in Yen Press' manga collection is Soul Eater Not! The series is published on the same day and date in the USA as it is in Japan, and is the only series that Yen Press releases with that schedule. In Japanese comics, it stands beside Rumiko Takahashi's Rin-Ne from Viz Media as the only other mainstream* comic that is released day and date in both Asia and America. The reason why this makes sense to me has quite a bit to do with the characteristics of Soul Eater Not! – it is neither shojo, shonen, or moe, but rather a strange mix of all three.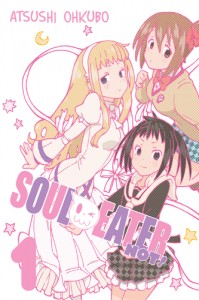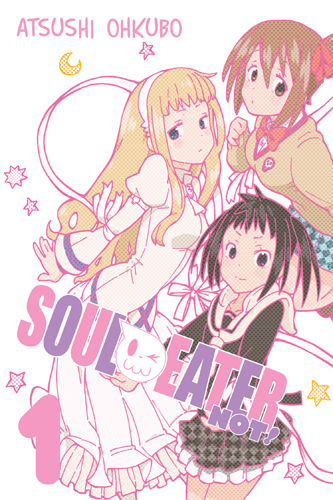 By Atsushi Ohkubo
Publisher: Yen Press
Age Rating: Older Teen
Genre:  Slice of Life/Action/Fantasy
Price: $11.99 USA
The best way to describe Soul Eater Not! is that is not the same manga as Soul Eater, another popular release from Yen Manga. Written and illustrated by the same author and set in the same world, it even uses some of the same characters to tell a much different story. Tsugumi, our main character, is a girl enrolled in the DWMA, an international organization in charge of training meisters and "weapons" in order to make sure they are able to control their abilities and support the greater good. Think of it like a Tim Burton-flavored Xavier's School for Gifted Youngsters. Students are categorized into two different groups – the EAT group, full of characters from the regular Soul Eater and badassery, and the NOT group, the mostly nonviolent portion of meisters and weapons at the school.
While Soul Eater is firmly in the camp of shonen with its ridiculous battles and the odd wars with witches (as far as I was reading at last mention), Soul Eater Not! is more slice of life fare, wherein its three female characters fit neatly into three separate manga tropes, do very cute things like work at a café, and go to class together, and more actiony things like decide what two people are going to be meister/weapon partners, fight some zombie-like interlopers, and protect each-other from marauding dorm-room evils. The tropes that the girls fall into are recognizable from manga like K-On!, but the action and potential love interest business also push it into both shonen and shojo territory. Frankly, it's a bit of a everything, and because of that, it's a pretty fresh read.
Ohkubo's art is quite similar here when compared to Soul Eater, albeit a bit more refined. The volume itself has a lovely matte cover with glossy illustrated overlays. The pacing works for the odd mix of comedy and action, and the page layouts flow seamlessly from goofy moe-style humor to extreme action scene.
While I am not certain where Soul Eater Not! will head after this initial volume, I can say that it a fun, lighthearted popcorn read that offers a well-formed fantasy world and hints of darkness lurking underneath a metric boat-load of cuteness. I found Soul Eater Not! fun and amusing, and having read some of the original Soul Eater, it's a nice complement to Yen Press' more shonen-oriented flagship title.

—
*GEN Manga's releases are all same day and date, however the GEN Manga Anthology purposefully represents itself as cutting edge doujinshi manga.