Every week, the Manga Villagers will go through the new releases for the week and pick out the titles they are most looking forward to reading. Whether it's buying or just window shopping, check out what we're looking at every week!
Week Ending 11/17/2012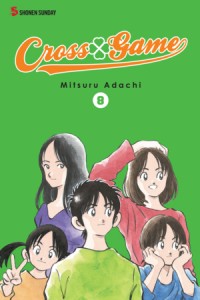 Alex: This week is an awesome week – mostly because Viz is releasing the final volume of Cross Game – I'm a huge fan of this series, and glad to see it come to a conclusion. I hope that Mitsuru Adachi gets additional work published in the USA – this was just a fantastic piece of work. Also, vol. 2 of Soul Eater NOT is out from Yen Press, which is another fun series. I need to catch up on Bunny Drop, since the 7th volume was released this week. Sort of apprehensive about that, actually.
Amy: Like Alex I'm behind on Bunny Drop but I'm glad to see the new volume being released this week. With the upcoming holidays I'm hoping to finally get catch up. I'm somewhat interested in Kodansha's release of Missions of Love but not sure if the premise is enough to make me what to buy in just yet.
Lori: I love cats, so I'm interested in checking out Start With A Happy Ending from DMP. Viz Media re-releases the first volume of their license rescue that I'm thrilled about; 07-Ghost. I can't wait to see if they can make the first volume make more sense. Also out is the yearly volume of Excel Saga. I'm so happy Viz continues to release this series, even if it is just once a year. Yen Press finally releases a volume of Aron's Absurd Armada, a series I've loved in their online magazine, Yen Plus. I'm also glad to see a new volume of Shoulder-A-Coffin Kuro, which hasn't had one since 2008.