Every week, the Manga Villagers will go through the new releases for the week and pick out the titles they are most looking forward to reading. Whether it's buying or just window shopping, check out what we're looking at every week!
Week Ending 11/24/2012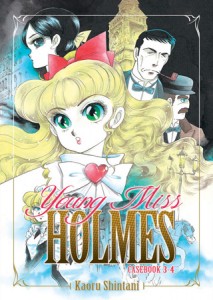 Lori: Since Giving Thanks is the theme this week, both with the holiday in the US and the Manga Movable Feast, my picks are also titles I'm thankful to be able to read. I loved the first volume of Young Miss Holmes from Seven Seas, so I'm thankful to Seven Seas for continuing it. I've also enjoyed reading Soulless in Yen Plus, so I'm thankful to Yen Press for introducing me to the series with Ren's wonderful art. But the big book that I'm most thankful to be able to read is Thermae Romae. It is such a treat, and one that I never thought would get licensed. Thank you Yen Press, twice!
Amy: Nothing in particular strikes me as a must have this week but I'm thankful to have titles to choose from!