The Manga Movable Feast for this month is talking about the manga we're thankful for, the people who got until reading manga, those guilty pleasures we read and enjoy despite knowing better, and the companies that feed our soul. So, here are the Manga Villagers with what manga they are thankful for.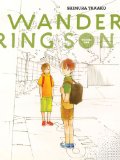 Amy: The manga that I'm most thankful for in 2012 is Wandering Son. I'm thankful that such a series is being released and hopeful to continue reading this series in 2013. I'm always forever in gratitude to all my twitter peeps that I can share and discuss manga with while also discovering something new. The guilty pleasures that I'm thankful for are the quick one-shot romance manga adaptations from Harlequin. Sometimes I just love to read a nice and quick story especially after a long day. Mostly I'm a Viz fangirl at heart and I'm grateful for all the new print releases this year along with the recent Kindle Fire app!
Lori: There is so much to be thankful for, that I don't quite know where to start. How about cat manga? I'm thankful for the titles we've been getting featuring those wonderful four-footed furries, to Vertical for showing there's money to be made there with Chi's Sweet Home, and to Jmanga for Edo Nekoe Jubei with combines cats with yokai. Just like peanut butter and chocolate! Too much of my collection has titles that are guilty pleasures, but the one that is the most guilty and most pleasurable is Dragon Voice. Please Kodansha, let Jmanga finish that series! But if I had to pick just one title I am the most thankful for reading this year, it would be Thermae Romae. I can't remember the last time I enjoyed reading a title as much as that one. It was fascinating and funny all at the same time. Thank you Yen Press for bringing this title out.
Alex: The question of "what are you thankful for," as it relates to manga is a difficult question for me. I love many, many series, and listing them all would take up more of your time than I want. So instead, I am thankful for Vertical Inc, a company that keeps taking risks and continues to publish fantastic, outside-the-box manga. Twin Spica and Drops of God are two excellent series, and I am happy that I was able to experience them. I am thankful that Viz Media finished publishing Cross Game, a series that showed you could make sports manga heart wrenching. I am thankful for Fantagraphics' unwavering attitude towards manga, their uncompromising stance that has led to the publishing of Wandering Son and The Heart of Thomas. I am thankful to Kodansha for continuing Negima! and to Yen Press for taking risks like Yen Plus. Finally, I am thankful for digital comics, and JManga, which has delivered unique and interesting titles that I would never see without them.