There's some good variety this week, ranging from old school favorites with Archie and Disney to new with Cartoon Network Block Party & Franklin Richards, the Marvel version of Calvin.
ARCHIE COMICS
Betty #172, $2.25
Jughead And Friends Digest #27, $2.49
Pals N Gals Double Digest #119, $3.69
Sonic X #30, $2.25
DC/Johnny DC
Cartoon Network Block Party #42, $2.25
Teen Titans Go #52, $2.25
GEMSTONE PUBLISHING
Barks Rosa Coll TP Vol 02 Donalds Atom Bomb, $8.99
Uncle Scrooge #373, $7.99
Walt Disneys Comics & Stories #688, $7.99
MARVEL COMICS
Franklin Richards TP Collected Chaos Digest, $8.99
Marvel Adventures Fantastic Four #33, $2.99
Marvel Adventures Iron Man #10, $2.99
SCHOLASTIC INC
Amulet HC Vol 01 Stonekeeper (AA), $21.99
Spotlights for this week:
Sonic X #30 – We introduced my oldest daughter to the Sega Genesis when she was 4 or 5, and since then both my daughters have become obsessed with the blue hedgehog and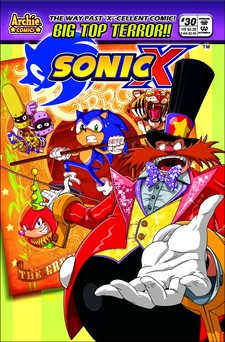 his friends. Video games, toys, clothes, a trading card game and a DVDs of the TV show fill their rooms. And of course, the comics. This is a new series Archie started based on the Sonic X TV series, which was brought over from Japan. Surprisingly, there have only been two short mangas done about Sonic in Japan. Sonic X follows Sonic, Tails, Knuckles and Amy as they fight against Dr. Eggman and his robot cronies for control of the Chaos emeralds in the human world. They are helped by Chris Thorndyke and his Grandfather Chuck. The comic sticks to the first two seasons of the TV series. The art stays true to the TV series and the stories are well written. At least, my kids think so.
Amulet Vol 1 – Scholastic books started an imprint three years ago for graphic novels. They have done Goosebump books and Bone. Amulet is a new story by
Kazu Kibuishi, who's previous story Daisey Kutter: The Last Train was selected as one of the best books for kids in 2006 by the American Library Association. In this new series, Emily and Naven move with their mother to their deceased great grandfather's house after their father dies. But strange things are afoot in the house, and their mother gets lured to a door in the basement by a sinister creature. The kids follow and end up in world inhabited by demons, robots and talking animals. Befriended by a robot rabbit named Miskit, they must find a way to save their mother. The art is nice and the story looks intriguing. But if the hard cover is too much, wait for the soft cover. Clicking on the title will take you to a pdf with a 16 page preview.