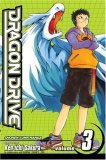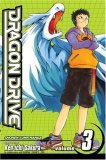 Dragon Drive Vol 3

by Keiichi Sakura
Published by Viz Media
Genre: Fantasy, Gaming
Rating: All Ages
Grade: B
Storyline
After a battle against Rokkaku, he joins Reiji and friends to compete in the Dragonic Heaven. As time goes on, Reiji meets two small children, Lyn and Sue, abusing a small water dragon, along with Chibi. Reiji battles their dragons and defeats them. Time goes on, his team meets the same two children, engulfed in darkness. After Reiji recovers from anger, He tries to save the children AND go to the next round.
Review
A new character! Okay but seriously, a new "fun" character to the series! In Volume 3 of Dragon Drive, we see Reiji and a powerhouse of Chibi, fueled with anger. There're some mysterious people creating a dark aura. The tournament looks like quite a challenge. And the rest will be revealed.
What I liked about it
Angered Chibi looked really awesome. Huge teeth stuck out of his mouth and there was some pretty huge muscles. I also liked the suspense the manga held. I think it was pretty cool.
What I didn't like
Berserker Reiji and Chibi kind of freak me out, even if they look cool.
What you could do to make it better
Nothing.
Is this suitable for children?
Yes.