Manami doesn't know a thing about "Chaos", a popular trading card game at school. Wanting to learn more about the game, she purchases a beginner's set that contains "Sahgan the Sorcerer", rarest of all Chaos cards. Now, not only does every fanatical Chaos player around challenge her, but she also starts having visions of Sahgan himself!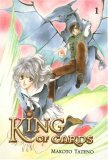 King of Cards Volume 1

By Makoto Tateno
Publisher: CMX
Genre: Fantasy/Romance
Age Rating: Teen
Price: $9.99/OOP
Rating:





There are a lot of manga titles about games available, but this series differentiates itself from the rest by relying more on its characters than on the mechanics of the game.
Manami just wanted to learn to play "Chaos," so she could play with her cousin Tamotsu. But things become more complicated when her beginner's set come with the rarest card in the game, Sahgan the Sorcerer. And as you might expect from a game series, she is then beset with challenges from players that all want to win Sahgan from her. And like all those other manga, she wins all the challenges. But what makes this series different is that Manami stays true to why she started playing Chaos; to have fun.
Being a beginner means she doesn't get all the nuances and strategies for the game. I could really relate to Manami as she has her doubts about being able to get the hang of all the rules and card abilities. Despite these feelings, Manami keeps going, because she really likes the game. Her feelings start to rub off onto the more experienced players that have become jaded about the game. They are more interested in getting strong cards and winning than having fun. Manami is able to rekindle those feelings by her pure love of playing and respecting the game. She even goes so far as to risk Sahgan in game to help her cousin get back into the game, who quit after losing his prize card, Angel of Destruction, to a couple of guys that overwhelm their opponents with cheap monsters. She doesn't want Tamotsu to quit because she wants to play with him, and it won't be fun playing without him.
This series is billed as a fantasy/romance, though there's been more fantasy than romance, unless you consider Sahgan appearing in Manami's dreams as romantic, though they've been anything but. He never speaks, and only gives her clues to winning the current match. There isn't any real tension at the matches, since, as I said, there isn't as much emphasis put on the game itself. They are still fun to watch, and the game play is mildly interesting. This is definitely a shojo series as the characters take precedence over the game and Manami starts to build relationships with her fellow gamers.
King of Cards doesn't really offer anything new to the shojo or gaming genre. But it is a fun read with characters that are interesting and easy to relate to.