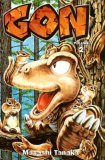 Gon: Volume 2

By Masashi Tanaka
Publisher: CMX
Genre: Action/Adventure
Rating: Teen
Price: $5.99
Rating:





Storyline:
Gon meets many animals, which were a Giant Tortoise, a Shark, Buffalo, a Hard Tick, a Warthog, Baboons, an Elephant, a Hedgehog, a Squirrel Monkey, a Tamandua, an Ocelot, and a whole bunch of Penguins!
What I liked:
I liked it when Gon chased the squirrel. I liked how angry Gon was drawn. I also liked how Gon played with the Penguins.
What I didn't like:
I hated it when Gon gave one piece of a banana to the Shark and how he behaved. It was a bit violent.
Would you recommend this to kids your age?
Yes. It's not too violent and Gon is cute!