65 million years ago, dinosaurs experienced a catastrophic extinction that ended their dominance on Earth except for ONE!  Now Gon marches across the wilderness, defending the friendly and furry from the mean and hungry.  Follow the journey as he encounters creatures big and small along the way and learns new things about himself from each of them.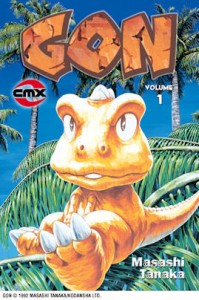 By Masashi Tanaka
Publisher: CMX
Genre: Action/Adventure
Age Rating: Teen
Price: $5.99
Rating:






Buy This Book
Gon is a unique series, as it is told complete without words.  But the wordlessness gives the mangaka an opportunity to write to a wide audience with multiple levels of meaning.  Originally published by DC Comics in the 1990s, Gon is being given another chance, printed this time in its original, unflipped format.
Gon is a small orange dinosaur that looks like a t-rex and lives in the post dinosaur-pre human world, interacting with other animals.  The opening pages show how tough Gon as, as first a leopard breaks his teeth on Gon's head, and then he's rammed by a Rhinoceros, sent flying, hits a tree and then a rock, before landing on his back.  And he sleeps through the whole thing, until a leaf floats down from the tree and lands on his head.  It's this kind of physical humor that makes Gon appealing to the younger audience.  And there's plenty of it as Gon takes on a Grizzly Bear, a lion and a Bobcat, showing them all who's boss.
But if you take a close look at these stories, you'll see another layer underneath, one that seems to be meant for an older audience.  Gon is not as altruistic as the back cover seems to imply.  Even though he does help out other animals, usually weaker ones, it's usually to his benefit as well.  Is Gon a hero for protecting a nest of baby eagles?  Or is he doing it because he gets to sleep in the nest and eat with chicks?  And when he decides to build a dam like a beaver, he ends up flooding the valley, and making all the other animals lose their homes for his own.  There is no black and white in this series, even though Gon doesn't seem to like to see the little guy get put down.
The art in this series is absolutely fantastic.  It is very realistic and detailed, down to the veins in Gon's legs when he jumps.  All of the animals are very expressive, making it easy to tell what they are thinking or feeling without a single word. Though, at times it felt a little too realistic, as Gon beat up the Bobcat. Even though he was the villain of the chapter, I couldn't help feeling for him after all the damage he took.
Gon is an example of a title for all ages, as opposed to an all ages title. Some of the scenes can be disturbing to younger readers or the squeamish, but only in the same way as Animal Planet shows or Mutual of Omaha's Wild Kingdom can be. Younger readers can handle this book, especially since there are no words, and its all up to the reader and their imagination to decide how severe the stories can be.
I gave this volume to my daughter to read when she was 8, and here's what she said about it:
I liked Gon a lot.  It is about a dinosaur who beats up on the big guys so he can get what he pleases.  The funny storyline has cute animals that make the manga come to life.  In general, it is a good manga.

It confused me at first.  It was hard to understand what was going on without speech bubbles.  The book got less confusing the more I got through.  I felt dumb not knowing how to read the manga correctly.  Never the less, it was enjoyable.
Gon is a title and series that definitely worth your time and attention. Tanaka brings up some interesting issues that adults will enjoy, and that kids can grow to appreciate. And its got a dinosaur and other wild animals. How can anyone resist?