When Isabella Swan moves to the gloomy town of Forks and meets the mysterious, alluring Edward Cullen, her life takes a thrilling and terrifying turn. With his porcelain skin, golden eyes, mesmerizing voice, and supernatural gifts, Edward is both irresistible and impenetrable. Up until now, he has managed to keep his true identity hidden, but Bella is determined to uncover his dark secret…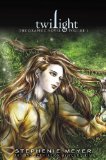 By Stephenie Meyer;
Art & Adaptation by Young Kim
Publisher: Yen Press
Age Rating: Teen
Genre: Supernatural/Romance
Price: $19.99
Rating:






Buy This Book
INTRO:
The book I'm reviewing now is called Twilight: The Graphic Novel Volume 1. I think I regret reading this, and I may never touch it again after setting my eyes upon it. But hey, as long as I'm allowed to bash it for what it is, I'm cool. Anyways, let's talk about what the story is about.
Continue reading Jenny's Journal: Twilight: The Graphic Novel Volume 1 →