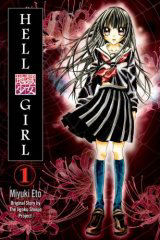 Hell Girl Volume 1

By Miyuki Eto
Publisher: Del Rey Manga
Genre: Supernatural
Rating: Teen (13+)
Price: $10.99
Rating:





Summary:
Hell Girl is a girl named Ai Enma who has recently transferred into a middle school. She will come to people who want revenge on their enemies via a strange, eerie website named Hell Corresponce that appears only at midnight. She will bring those people down to Hell. The only price is your soul; you will suffer in hell after you die.
What did I like about it:
I liked the ever-so-beautiful Hell Girl's looks and actions. Graceful and kills enemies with her phrase. The drawings and vocabulary were perfect as well. There was also one story I liked, which ups the rating.
What did I dislike about it:
The stories were interesting but it was disgusting because of what happened to the people that were about to be sent to hell. Also, the death of a puppy displeased me, as I like animals.
Could you improve:
No, you couldn't improve on the manga. My reason why is because of said graphics and vocabulary. Also, by just looking at the pictures, you could somewhat tell what was going on. The revenge was funky and weird, but it was done because that person did something so that the one who wants revenge would get what they wanted.
My favorite story:
Chapter Four: The Inaudible scream. Why? It has cute puppies. It also increased my rating due to one death of a puppy named "Lucky" and a sort of "reborn" Lucky as a tiny puppy. Also, the revenge on the selfish and evil doctor was like heaven to the girl for killing the puppy.