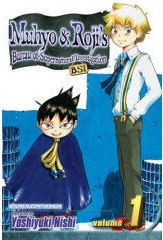 Muhyo & Roji's Bureau of Supernatural Investigation Volume 1

by Yoshiyuki Nishi
Publisher: Viz Media
Rating: Teen
Genre: Supernatural/Action
Price: $7.99
Rating:





When the ghost of a tormented school-girl starts terrorizing subway passengers, can Muhyo and Roji resolve the paranormal crisis before it totally derails?
Meet Toru Muhyo and Jiro Kusano, sole proprietors of the Muhyo Bureau of Supernatural Investigation. Muhyo is an executor, the highest rank available in the Magic Law Assosication, and the only one able to practice Magic Law. Roji (who always turns his name around, so everyone just calls him that) is Muhyo's secretary, a second clerk and the lowest rank. In this first volume, we are introduced to the protagonists, and see what they do with Magical Law. Put simply, they exorcise ghosts by sentencing them to either above or below, depending on their crimes.

This first volume is a set of single story chapters. The first thing we learn is that Muhyo and Roji are an odd couple in more than one sense of the word. Muhyo, short and with big, almond shape eyes, is the brains of operation. He's a genius at Magic Law, being the youngest executor ever commissioned. He is also lazy, and seems to be cold, with a superiority complex. He would prefer to read his favorite manga Jabin than work. Roji by contrast is tall, and a bit of a bungler. He is the lowest rank, and can't perform any magic what so ever. He is Muhyo's secretary, mainly there to meet clients, get tea, file and keep the place clean. He is more sympathetic to their client's plights. And like most well written opposites, their personalities compliment each other perfectly.
Even though Roji is subordinate to Muhyo, something Muhyo doesn't hesitate to remind him of, they still have a friendship that we see build through the volume. Despite Muhyo's cold exterior, he really does care about both his clients and Roji. He seems to prefer the "tough love" way of showing it, but it does come through. After sentencing Taeko, he gets it reduced from going below to going to the river Styx. Then, when Roji is playing with his Law book, he seems to get angry with him, but in reality he was worried about Roji getting her due to a protective spell on the book. The seeming dichonomy of Muhyo really draws you in.
In the third story, we start to see the shade of an overarching storyline. A ghost has been haunting a child prodigy piano player. It seems to be the amalgamation of the jealousy and hatred her natural talent makes people feel. But, after defeating the haunt, Muhyo figures out that the spirit was really after him. It's hear we get the first mention of Enchu, a former magic law study partner of Muhyo's who envied his talent and turned to the darkness. This is a foreshadowing for future volumes.
The final story in this volume is the one shot that was run in Akamaru Jump that got Muhyo and Roji regular serialization in Weekly Jump. Not much was changed between this original story and what became the serialization. The biggest difference is the way that Roji acts. In the one shot, he is much more sure of himself, and seems to be more on par with Muhyo. He is more like a younger sibling than subordinate, and can use some magic by making wards. I really prefer the current Roji to the original. It fits with Muhyo's personality better. Otherwise little else was changed. It's an interesting story about friendship.
Muhyo and Roji's is an interesting take on the supernatural genre. The combination of law and exorcism is definitely a new and different idea, and actually works well. It's a fun story to read with intriguing characters that are not as obvious as they seem. It's definitely worth checking out.