It's time for another round of mini reviews. It's the teen edition of Shonen Jump. Next time I'll give some reviews of some Tokyopop titles.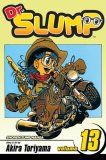 Dr. Slump Volume 13

by Akira Toriyama
Publisher: Viz Media
Rating: Teen
Genre: Comedy
Price: $7.99
Rating:





After a volume of comedic shorts, this volume follows one plot all the way through. Norimaki's arch enemy, Dr. Mashirito has come up with another robot to try and defeat Arale and Norimaki. He's created a robot that is an exact replica of Arale, Caramel Man 004, except that he is a boy and is very polite and courteous. He is led to believe by Mashirito that Norimaki and Arale are ever and need to be destroyed. Caramel Man 004 runs off to Penguin Village, but when he meets Arale, he falls in love with her.
Arale getting a love interest seems to be the most improbable of situations, especially since she doesn't seem to have a clue what love is. But Caramel Man 004 is no ordinary love interest. Made to be Arale' s match in every way, he can hold his own with Arale, and makes an impression on her, just not romantically. The story around Caramel Man 004, who is later renamed by a reader to Obotcha-man, isn't really on par with the usual Dr. Slump material. Despite the misunderstanding and mistaken identities, it seems to ordinary for this series. Side comedy within the story and extras make up for it though. Sprinkled throughout the volume are little scenes featuring inventions that readers came up with, with the reader getting full credit. Things us as "Instant Morning Sun" and a teleport hat for Norimaki are creative gems really keeps the humor up. There is also the Hall of Shame, where Toriyama tries to explain away discrepencies in Dr. Slump, that usually end up with him being punished with a bucket of water, though he does have one or two where he gets praised. Even though this isn't the usual frantic romp that I come to expect from Dr. Slump, the comedy still wins out overall.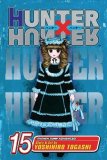 Hunter x Hunter Volume 15

By Yoshihiro Togashi
Publisher: Viz Media
Rating: Teen +
Genre: Action/Fighting
Price: $7.99
Rating:





Gon and Killua are taken under the wing of an experienced Hunter named Biscuit. Even though she looks like a young girl in the Greed Island game, she is actully 50 years old and knew Gon's father. She trains the boys hard, getting them to raise the nen, and to better use spell cards. After three months of hard work, they really start to excel on Greed Island.
All the card hunting of the last couple of volumes gets put aside, and we get to see Gon and Killua doing what they do best. Training and getting stronger. With all the card collecting that's involved with Greed Island, the title was turning into a "gotta catch 'em all" type of series, and quickly losing my interest. Getting back the real strength of the series brings back some of that spark that make me like it in the first place. The training has it's funny moments as the dense Gon takes a while to figure things out. But, once he does, he becomes formitable. With their improved Nen, Gon and Killua also go about creating their own signature moves. The plot doesn't move much, but it's a good, entertaining return to the core of the series.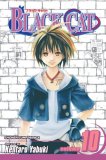 Black Cat Volume 10

By Kentaro Yabuki
Publisher: Viz Media
Rating: T+
Genre: Action
Price: $7.99
Rating:





Having survived the last battle between the Chrono Numbers and Creed, Train and gang think they are going to have a relaxing few days off (while Sven's car is being fixed). But Creed hasn't given up on his old partner just yet, and tries to eliminate what he thinks is keeping Train from him; Sven. So, instead of living large, Train gets small.
It's the start of a new story arc with this volume. The nanotech we saw in the last volume returns, but doesn't make it to it's intended victim, nor does it have it's intended results, but it does have a quite an effect. While amused at first Train find the change is more of a problem than he bargained for, and the only person who may be able to help him seems to be on the Apostles list as well. It seems Train may have to deal with this problem for a while. There are a lot of amusing scenes in this volume. Kyoko from the Apostles, who left with Charden, develops an instant crush on Train, bringing with it lots of humorous scenes. Overall it was a fun read.