Worried that she's been far too lenient with Lupin, Suguri starts him on a strict training regimen.  But then Lupin disappears, and Suguri blames herself.  When standard search methods fail, it's time for some creative problem solving.  With a little luck and a little talent she just might be able to find her precious pooch!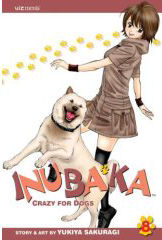 By Yukiya Sakuragi
Publsiher: Viz Media
Rating: Teen+
Genre: Slice of life
Price: $9.99
Rating:





Lupin runs away during a thunder-storm, and jumps into a moving truck just as its finished packing.  Lupin is whisked away from Suguri, who has been searching for him.  Arriving in another perfecture (county), Lupin has his own set of adventures as he tries to find his way home.  Suguri, devastated by Lupin's disappearance, goes to any extreme to find him.
I want to be honest here. I'm not a big dog person. I don't mind having one around, but I'm much more of a cat person. This preference seems to have colored my view of this manga, as I just didn't care for it. Not because it was badly done, I just wasn't interested in the dogs or their owners. Neither the characters nor dogs really endeared themselves to me. Suguri was just annoying. She naive and an air head. Lupin wasn't as bad. The white female dog that took to him, Natsuko was more interesting though. It's really all a shame too, since I wanted to like this series. I love animals, and would like to see more animal manga.  But this one isn't it.
Another thing that bothers me about this series is all the panty shot/up skirt shots we get of Suguri. Does a title about dog lovers working in a pet store really need at least one shot for every page Suguri is on? And it's mainly just her that's gets this treatment. These just turned me off the book even further.
It wasn't a complete turn off though. The last two stories were more to my liking. The first dealt with Baby Boomers, and the "empty nests" their homes have become. This issue hits home for Teppei when his mother comes looking for a puppy to fill her home again. And the final story, where the fan service has a point, has the girls going to the beach on their day off. Suguri really wanted to go with Teppei, as an almost date, but Teppei is too dedicated to his store and spends his days off seeing breeders to find more different puppies. This one is filled with rumors as the girls speculate what Teppei does on his day off, but the truth makes Suguri all the more happy.
If you're an animal lover of any kind, you will be able to relate to the feelings expressed in this volume of Inubaka. If you are a dog lover, then this story will really hit home. If you like cats, and can take or leave dogs, and/or fan service, then you may want to skim through this before buying.