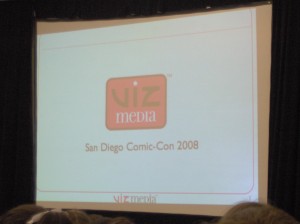 The Viz Media panel was the only manga related panel I chose to go for a few reasons.  One, we were short on time since we were commuting, Thursday only had two that held any relation to manga, and none of industry, and I wasn't impressed with the Shonen Jump Panel last year.  It was all cheer leading, and no real news.  And they tricked me this year!  Last year the Viz industry panel was on Thursday, thus one of the impetus to change to going on Thursday.  Instead, they put both the Viz panels on Friday, and nothing on Thursday!  Why SDCC??
Anyway, the panel started with recaps of the Weekly Shonen Jump contest, manga-ka Tite Kubo's schedule at the Con, and the Slam Dunk promotions also at the con.  You can get specifics of it here.
There was a short talk about the original comics that Viz will be publishing.  They want to publish "good comics", ie; it's more about good stories and not just the art.  The stories they will be starting out with will be relevant to the readership and episodic in nature.  The age demographic they are looking at is 18-30.  The first titles will start in Shojo Beat next year (no specific date), and will be 1-3 pages long.  They were also taking Portfolio reviews on Sunday, and Eric, who's in charge of the project, was wondering around the convention, and asked for people to come talk to him and tell him what they want to see.
They went through the anime releases for Blue Dragon, Naruto, Bleach, Buso Renkin, Inuyasha, Hunter X Hunter and Death Note.  They're all coming out in from September to December, respectively.  They had trailers, but had a hard time getting quick time to work.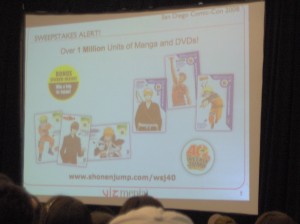 Manga Releases – they started out with the Fifth Anniversary hardback of the first issue of Shonen Jump, which was also available for sale in the Hall, which includes all the titles of the manga that opened the magazine, and Naruto, which started in the second issue.  There will be boxset of manga volumes coming out as well as Collector Editions, hardback books with color pages and dust covers (just like the Japanese editions) and will retail for $19.99.  Beach #1 was the first one to come out and was also available at the Viz booth at the con, and will be followed by Death Note, Naruto, Yu Gi Oh!, Dragon Ball and Dragon Ball Z, releasing in order from Sept. to Dec.  (Hey, how come no One Piece?)
Viz is expanding this Viz Kids line, in order to reel in more kids earlier.  They mentioned the Pokemon titles already released, Diamond and Pearl, and Rise of Darkrai, but that's it for manga it seems.  The other books, Let's Find Pokemon and Fun with Pokemon: Mazes & Puzzles are more activity books.  There's also going to be a 2 volume Complete Pokemon Pocket Guide, which kids that play the games will probably like, but how does any of these promote manga?  Kids that see these will want to read manga about Pokemon, and right now, Viz only has 5 volumes out that cover several different series.  Obviously the licensing and/or marketing departments at Viz don't have kids.
Continuing on, there will also be Naruto Chapter Books.  They are 80 pages long with illustrations (much like light novels/j-pulp), and will tell Naturo's story in prose format.  This is a great idea, since American parents are used to seeing popular media for kids in this format.  Most superhero movies get this kind of treatment too.  This is a new format, the Japanese have nothing like this, and it will be available in October.
My oldest daughter was excited to hear about the Legend of Zelda title.  It will be released bi-monthly, with the first volume coming out in September.
Spring 2009 will bring more new titles for kids.  Bakegyamon is a game manga where kids compete every 40 years with the winner getting their wish granted.  It will be released in March 2009.  Happy Happy Clover is inspired by a DS game that came out in Japan and has a 26 episode anime (how long before we get a license announcement for that from Funimation?)  It's about Chima, a young female rabbit that lives in Mikazuki Woods.  A new friends moves in and all kinds of adventures take place.  It will come out in May 2009.  Definitely one for the girls, and younger boys.  Dinosaur Hour is a gag manga and will be out in April 2009.  Also in April is Leave It to PET.  I'm not quite sure how to describe this one, and neither was the panel.  It sounded very strange.  My girls will probably like it.
Shojo Beat will have some new re-releases as well as new titles.  For the VizBIG line, Fushigi Yugi will have it's first in January of 2009 with a quarterly release schedule.  Hot Gimmick will follow in March.  The first new title announced was Heaven's Will, which is also coming out in January.  It's about a girl that can see ghosts, and becomes a magnet for them, and the boy that wants to become an exorcist, and starts to follow her.  Magic Touch is a manga about massage.  Sounds like it could stray into more adult territory… 😉  Otomen is about a very bishonen boy who is very girly, ie likes to cook and flower arrange, but is normal otherwise, and has a crush on a girl who only likes manly-men.  So, he has to hide all his girlish tendencies to win her over.  These two are also January releases.  In March 2009, Honey Hunt will be released.  It was described as "What if your parents were Bradgelina, and they were going through a messy divorce…"
From Viz Media, there are some new titles scheduled.  One Pound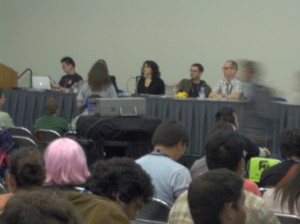 Gospel, second edition, this time with an ending!  The first volume was available the booth.  It will come out bi-monthly.  Black Lagoon has had a lot of people waiting for it, and volume 1 will officially come out in August.  An edition with dust cover was also available at the Viz booth.  Gestalt is a new book coming out in June 2009.  The two words used to describe it: "Sexy Elves".  It's a comedy with an RPG feel to it, and will be coming out bi-monthly.  Dogs takes place in a dystopian future and will be coming out in April 2009.  This one is rated Mature and is ongoing in Japan.  Another mature rated title is Ikigami, literally translated as "death paper".  In the near future, in an attempt to control the population, the goverment starts giving out these Ikigami randomly to people who reach the age of 30.  From then on, they have 24 hours to live.  These are the stories of these people and the ones who hand out the Ikigami.  This title intrigues me.
Viz Signature had saved the best for last.  It started out with the release of Real (now available) and the VizBIG edition of Vagabond.  It's 700+ pages, and therefore a little more expensive than the other VizBIG editions.  It will be out in Sept.  Already announced as well were the art books Sumi and Water, based on Vagabond, and will be out in Sept. also.  Solanin will be out in Oct. and will be a 2 volumes in one release, like Tekkon Kinkreet.  Oishinbo is an enormous series in Japan.  It is a food manga, about two reporters who are sent out to create the ultimate menu for their magazine.  Viz will be publishing the 7 "a la cate" editions which include Saki, Japanese Cuisine, Ramen, Fish, and the Joy of Rice (I couldn't catch all the names).  There will be 1-2 recipes included in the manga.  This is another titles that sounds intriguing.
Though the announcement isn't new, a date has been announced for 20th Century Boys from Naoki Urasawa, the creator of Monster.  This title has been long awaited in the mangasphere.  There is a strange conspiracy that is engulfing the world, that somehow relates to aging rocker Kenji's childhood.  There was a trailer for this that was shown.  It will be released in February 2009, an will be bi-monthly.  The surprise license was Pluto, also by Naoki Urasawa.  Part of why this is a surprise, is that Urasawa-san had said he wanted his manga to be released in order, and not until the previous series was complete.  Pluto will be release in February 2009, along side 20th Century Boys.  It is based on a character from Osamu Tezuka's Astro Boy, and is really a re-imagining of this bit-part villain.  While we do it all the time in US comics, this is a first for another Japanese mangaka to write a series about another mangaka's character.  To get the full scoop on this series, check out the Anime World Order podcast's review of it.  It got me interested in the series, and excited to hear about this license.  A trailer was shown for this one two, one that hasn't been seen outside of the Viz offices until now.  The book will be released bi-monthly as well.
Because there was so much to cover, and only an hour to do it, there was only time for one question, and it went to some jerk who "didn't know much about this man-ga thing", and wanted to know why it took so long for releases between Japanese and US editions.  I thought the guy was just being a troll, and wasting our one question.  He sounded really sarcastic to me, especially the way he said "man-ga".
And, that was it for the Viz panel.  I was disappointed that there wasn't time for questions.  I had a running list that I keep adding to that I wanted to ask.  I guess I'll just have to try and find some other way to get my questions asked.  I don't want to wait until next year.  I don't know if I'll be able to get in!