Well, we got through another day, filled with even more people and more lines.  Yesterday, we had to spend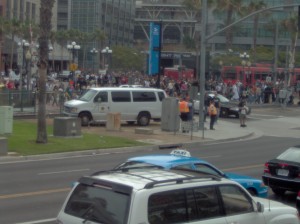 an hour in line and just barely got to see the Dexter panel.  Today, it took 30-45 minutes on the shuttle to get to the convention center.  We got there at 10:15, and was 30 minutes early to see the Stargate panels. We were able to get in only because they were the first panels of the day, and we still were in the back.  We waited for only 1/2 hour for the Viz Media panel, but were still at the back, and was totally denied from going to the MST3K 20th Anniversary panel.  Over an hour before the panel, and the line was already filled to capacity for the room.  We REAAAAALLLLLYYY wanted to go to that one.  We've been fans for over a decade!
There is such a thing as becoming too big, and SDCC has definitely become that for San Diego.  It just isn't fun to spend all day standing in lines just to see maybe 2 panels!  Top that with an Exhibit room that's too big to see in just one day, and you've got yourself a mess.  And that's just what SDCC has become.
I want to recant a disappointment from yesterday.  I said I was disappointed in Yen Press for not having Yen Plus available at their booth.  Well, they reversed that today.  Not only did they have the first issue available, they had them for FREE! Get that?  No moolah!  And it's huge!  At least twice the size of Shojo Beat!  I'm not going to say it's a Viz killer, as I've only read on chapter, but it's higher price in issue and subscription is totally justified if it's gonna be that size every month.  I'll have a full review later.
But I still didn't get my book bag from Viz, and I'm still disappointed about that.
I finished my mission to meet with all the manga publishers that had tables in the Exhibit Hall.  I have to say,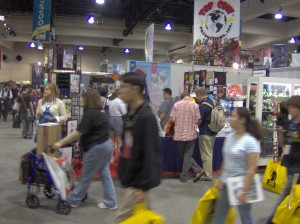 I found all the people I talked to, publicists and others at the booths were all very nice and gracious.  They were glad to listen to me, and trade business cards.  I was really nervous before the con about how I would be received, but every one I talked to was great.  The Aurora/Broccoli booth was especially fun.  The Broccoli people were all Japanese, and their business manager handed me his card the proper, Japanese way.  I wish I had remembered how to do it (I saw it once on TV), but it was really cool to be presented that way!
Aurora was really great too, explaining about their lines, especially the LuvLuv and Deux.  Even though I wasn't initially interested in these, after talking to them, I'm finding their offerings more interesting.  It's a shame they were stuffed in the back between the Sideshow Collectibles and Marvel booths.  It didn't look like they were getting the traffic they deserved.
Even though Saturday is the day for all the guest panels, and Del Rey and Yen Press panels, there is no way we're going back to the con.  It is going to be INSANE.  Instead we're going to the Wild Animal Park.  Krissy hasn't been there before.  I'll have more reports about the Viz Panel with some cool announcements (as I'm sure has already been reported) and some of the cool stuff I found over the next couple of days.  After I've recovered.