Well, we survived the first day of the Con.  It was crowded, as I predicted, and it's only the first day!  Moving through the Exhibit Hall was difficult at times and nearly all the panels had a minimum 1 hour wait, and you still weren't guaranteed to get in.  We ended up missing the Doctor Who/Torchwood panel, so instead we spent most of the day in the Exhibit Hall.  We took lots of pictures, and I'll be posting some throughout the weekend.
I stopped by most of the manga publishers tables, and I have to say, I'm pretty disappointed.  Especially Viz.  Last year, they had lots of manga for sale, so I could catch up on titles that I had fallen behind on.  Heaven knows no one brings manga to a comic con.  Who would want to buy comics at a Comic Con?  This year, they decided to just push certain titles (Black Lagoon, One Pound Gospel, Vampire Knight, Bleach Collector Edition and the Shonen Jump Fifth Anniversary Collector's Edition).  It was a real letdown.  They had other things going on at their booth.  There was wall for people to post post-its with messages for Tite Kubo, a basketball hoop shoot to promote Slam Dunk, and a preview of a download service for manga that's only available in Japan.  Bring it out here!  And for the DS!!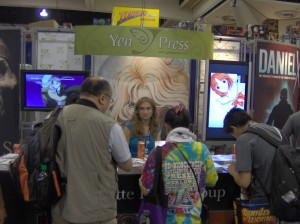 Yen Press bummed me out too.  I was so sure they would have issues of Yen Plus available for sale at the con.  I came out yesterday after all.  What better place to push the magazine than at San Diego?  Instead, there's just some previews of The Melancholy of Suzumiya Haruhi.  No Yen Plus anywhere.  (Nowhere else at the Con either).  So I was denied twice.
The smaller publishers I stopped by had a much better selection and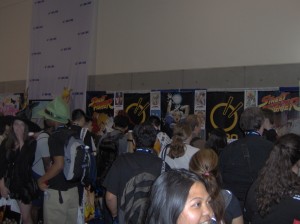 actually had books for sale!  Digital Manga was across from Viz, and had their books out front (the non-yaoi titles) for easy perusal and purchase.  Udon, who was down by Video Game row, not only had books for sale, but was providing autographs and sketches for customers.  It felt like a much more fun atmosphere.  The way a con should be.
Tomorrow I will be stopping by Del Rey and Aurora/Broccoli Books, as well as going to the Viz Media Panel (hopefully).  San Diego has become a great Con for making contacts, and meeting guests, but as a convention in the traditional sense, it's failing miserably.