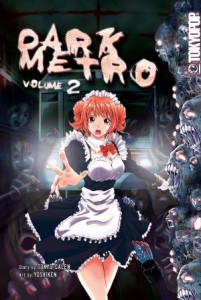 Dark Metro Volume 2

Story by Tony Calen; Art by Yoshiken
Publisher: Tokyopop
Age Rating: Older Teen
Genre: Horror
Price: $9.99
Rating:





Terror awaits the people of Tokyo, with gruesome lessons only the dead can teach. In this second collection of shorts, a waitress at a maid café sparks jealousy. A mother who can't handle the responsibility of raising her child commits a horrible crime. An ancient sword awakens a psychotic samurai. And finally, the solemn guide Seiya reveals his own tragic past and the nature of his gifts that are his curse.
Things don't get any better with this second volume of this series.  Following the same unsuccessful pattern of the first volume, there is some slight improvement story-wise, but technical issues with the formatting wipe it out.
The first story about a maid cafe patron who gets trapped in a video game had potential, but never received any follow through and ended abruptly with Seiya acting more like a parent telling their child they had played long enough.  This might work in Star Trek, but fell flat here.
The second story was the best of all the stories so far for both volumes.  It had an actual beginning, middle and end, fit in the short story format, and had the Japanese horror twist that makes the stories so good.  It worked the best, and if the other stories in these two volumes had been as tightly written as this one, it would have been a much better title.
The next two stories might have been good, but I couldn't tell.  All of the pages were off center, or cut off in the manga viewer, cutting off 1/3 of the sides and about 2/3s of the bottom, making the stories practically unreadable.  This kind of sloppiness on Tokyopop's part is completely inexcusable, especially since the first two and last chapter came out find.  Anyone over there ever heard of quality control?  It works guys, really.  It makes you look like professionals, which you ought to be at least trying for.
The last chapter is only about 5-6 pages, and is just a few 4-komas that I think were supposed to be funny, but really weren't.  The author and/or artist seemed to think it would be funny to try and portray Seiya as being more interested in guys than girls.  It wasn't  As I said before, there's nothing bishie about him, and trying to make that comparison just felt forced.
Unfortunately, again,  Tokyopop has another series that should have been good, but has so far fallen flat.  The only reason I gave it two stars, is on the strength of the second chapter.  It might have gotten another if I could have read the last two, but hey, who needs all the hassle of going back and checking something.  Tokyopop's doing just fine….right?