"On the Seventh Day of Christmas, my true love gave to me, Seven Dragon Balls,"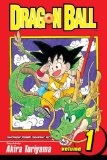 Goku is a strange boy with a tail and super strength living by himself in the mountains.  One day, a girl named Bulma finds him while she is searching for a legendary object: a dragon ball.  If you collect all seven and call forth the dragon, he will grant you one wish.  Goku has one of the balls, left to him by his Grandfather.  He agrees to let Bulma borrow it, but wants to go along with her on her journey to make sure the dragon ball remains safe.  The pair then embark on a strange and exciting journey to collect the rest of the dragon balls, but they seem to have some competition.
Dragon Ball (the original series, not Z) has the distinction of being the first manga I ever bought, in English or Japanese.  I was into Dragon Ball well before it became the phenomenon it did here.  And I never like Z.  I stopped picking up the manga when they started heading off into space.  The first 16 volumes are all I need.  Goku was cute and fun, with his clueless innocence.  I'll always like him best small and with his tail.  I liked Dragon Ball when it was an action comedy.  It still had the typical shonen issues of Goku having to fight bigger and stronger foes, but Toriyama did it in a way that it didn't get boring or repetitive.  The fights didn't drag on in the beginning, and there was more going on than just fights.  Dragon Ball is another classic that everyone should check out, but feel free to stop after volume 16.
"Six Girl Volleyball Team,
Five Bronze Saints!
Four Friends in Winter,
Three Sibling Cards,
Two Girls named Nana,
And a One Piece for the Pirate King."