I don't hang out at Tokyopop.com anymore, but I still get all their newsletters, just to keep abreast with what's going on.  In the newest newsletter, there is a poll about e-books.  Which would you prefer?  Apple iphone, Sony e-Reader, Amazon Kindle, or none, reading paper books.  Accompanying this in the newsletter is a video of a comparison review of the e-Reader and the Kindle.  Viewing the video shows Tokyopop's bias for the e-Reader (as that is where they have OEL manga available).  The influence of this video seems to be reflected in poll, as the e-Reader has the second most votes, and most for a digital device.
I have to hand it to Tokyopop for continuing to show some support for ebooks and the e-Reader.  With it's recent problems, publishing books electronically can be a good call to keep the fanbase happy while Tokyopop struggles through these tough times.  It could also help to grow ebooks, in the same way that they did with OEL. If they would keep their books updated and make them easy to get, they might just make ebooks successful.
If you have Sony's e-Reader, then you have access to about 21 volumes of Tokyopop's OEL titles.  About half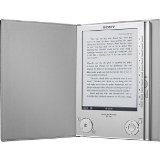 of these are the same titles that were available with the e-Reader launch in 2006, and only the first volumes.  If e-manga has not been successful on the Sony e-Reader, this is probably the biggest reason.  Only so many people are going to buy the first volume in a series.  Just like in print, you have to keep new volumes coming out to keep people coming back.  Most of these titles have not only finished, but have had omnibus/compilations come out!  Get those on the store!  Get more of the OEL titles up there, especially the ones that have been "put on hiatus" (cancelled).  Get the Harper-Collins tie-in up there.  Warriors and Vampire Kisses have been great print sellers.  Get them to help the e-book sales.  You can get all the Warriors books as e-books, why not the manga too?
They should also have all their one-chapter online manga available to be downloaded for free to the e-Reader, even if they book is available as an ebook or not.  This is a great way to promote books in any format.  The e-Reader at launch came with several excepts of Tokyopop OEL, so it's not like it's impossible.  And Sony shouldn't object to having excepts available on their site.  Do the same with the manga pilots.
If Tokyopop really does support the Sony e-Reader, then the should have download links to the Sony e-Book Store.  I'll bet there are a lot of people going to Tokyopop's site that doesn't even know that some of their books are available on the e-Reader.  How hard is it to put in a link, even if it's just to send people to the Sony site?  It would be better to just be able to download them from TP's site.  Convenience is the name of the game on the web.  Make it easy and more people will use it.