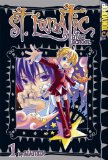 St. Lunatic High School Volume 1

By Majiko!
Publisher: Tokyopop
Rating: Teen
Genre: Horror/Comedy
Price: $9.99
Rating:






ISBN: 1-59816-944-7
Forced to attend the prestigious St. Lunatic High School, Niko Kanzaki discovers a haunting secret in her demon-filled night-classes!  She applies higher learning to find out the differences between humans and demons, but the handsome and mysterious Ren shows her that the races also share some things in common…
When I read in Previews that the mangaka of this series also wrote the manga adaptation of Code Geass, I was excited to read this series.  Code Geass is an awesome story.  I don't know what I was expecting, but it sure wasn't this…
Tokyopop once again uses the genre horror for this series, very inappropriately.  There is nothing horrific about this series.  It might have helped if it had.  Niko and her brother Atchan are poor.  But Atchan gets a job teaching at the prestigious St. Lunatic High School, so they think their worries are over.  Think again.  One rundown apartment is skipped out on for a rundown shed on the school's grounds.  And the night classes that Niko gets to attend?  Full of demons.  None of them look normal, except for one; Ren the bishonen loner, who ignores the other girls, but finds himself helping Niko out, despite himself.  You couldn't find a better boiler plate for a shojo manga that this if you tried!  The characters, the situations, they are all as stiff as boards.
It doesn't help things either that Niko is absolutely annoying.  She's loud and obnoxious, and is always yelling.  There is nothing likable about her.  I know her design is supposed to be cute, but it's not.  It's plain at best.  You can't have a shojo series with a completely unsympathetic heroine and have it be good.
That isn't to say this book is all bad.  It does have its moments, and there were even a few times where I chuckled out loud.  But it's mostly the supporting characters that are providing the humor; Niko's classmates, and the Chairman of the school (who is also Ren's father).  I found the demon with the Easter Island Maoi particularly entertaining.
Majiko did a good job with the adaptation of Code Geass.  I really enjoyed that title, even with the changes that were made, much more than this, which is sad, since I really wanted to like this one too.  But the bad points just outweighed the good this time.  For a supernatural high school shojo, you're better off looking elsewhere.  Or picking up Code Geass.