Being carried around everywhere and having handsome Megumi act like a slave may seem ideal, but Suzuka just wishes he would stop.  Can anything be done about Megumi's captive state?  Or is Megumi doomed to see Suzuka as his master…forever?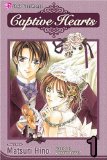 Captive Hearts Volume 1
By Matsuri Hino
Publisher: Viz Media – Shojo Beat
Age Rating: Teen (13+)
Genre: Romance/Comedy
Price: $8.99
Rating:





Long ago, a thief named Kuroneko-maru stole a family heirloom of a samurai family, the "Scroll of the Rising Dragon".  When he tried to read it, the guardian dragon appeared and cursed Kuroneko and all of his descendants to a life of servitude to the Kogami family.  Megumi Kuroishi, a descendant of Kuroneko, has lived most of his life not knowing about the curse, as the Kogami family was believed dead in China while on a trip.  But, the daughter of the Kogami, Suzuka, appears and returns, and the curse kicks in, making for much comedy and the stirrings of some romance…maybe?
Captive Hearts is first and foremost a comedy.  Megumi's sudden "Manservant fits" can be funny, hitting him suddenly, and making him obsess over Suzuka even when he's not with her.  Reverting him back to normal usually takes some kind of violence.  So the comedy is mostly physical, and works pretty well.  But this can only last so long.  There are only so many times Megumi can sweep Suzuka off her feet or burst through her classroom window to protect her before it get old.  So, let's through some romance into the mix.
When I say romance, I'm being kind.  There really isn't any setup for Megumi and Suzuka.  Megumi spends most of his time struggling with the curse, so there's little indication that he has any feelings for her until the end of the first chapter when he goes to China to bring Suzuka back because he "wanted" to.  But doubt lingers, and Suzuka spends most of the volume fretting over this to the point of trying to jump off a building in hopes of breaking the curse and freeing Megumi.  This is melodrama taken way too far, and really feels forced.
Another problem I have with this volume is that the main story only takes up half the volume.  The rest is filled with short stories by Hino.  One is about a middle school girl student who is in love with her teacher and the other is about two siblings trapped in a snow storm waiting for a bus.  This second story is very angsty, reminding me of Vampire Knight.  This was a real disappointment for a first volume.  I can understand wanting to pad a volume at the end of a series, or after a big story arc, but just as the story is beginning?  This doesn't bode well for the rest of the series.
The art isn't as polished as other Hino titles, but that's not bad.  There is just enough detail to look good without being overwhelming.  Characters faces are actually visible, and not hidden until long, scraggly locks.
Captive Hearts started out with a lot of potential.  The balance of comedy to romantic elements seemed even, with the melodrama nowhere near the levels of a series like Vampire Knight.  If the title can keep this balance, it will definitely be worth following.