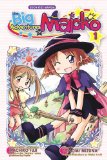 The Big Adventures of Majoko Volume 1

By Tomomi Mizuna
Publisher: Udon Entertainment
Age Rating: All Ages
Genre: Fantasy
Price: $7.99
ISBN: 1897376812
Rating:





While cleaning her room, a young girl named Nana finds a mysterious diary. As soon as she opens it, out pops Majoko, a rambunctious wizard girl from the Land of Magic! Together, these two girls explore a fantastic world full of magic spells, wondrous creatures, and endless surprises. Every day is a big adventure when Majoko is around!
The Big Adventures of Majoko has ever thing to please a young girl; easy to relate to characters and stories that are filled with fun and adventure.  The simplistic and self-contained stories are perfect for the emerging to chapters reader, but don't expect to see it in the hands of many over the age of 10.
While not all necessarily big, there are plenty of adventures in this first volume of Udon Entertainment's debut manga for kids.  Majoko, an outgoing and sometimes reckless witch who sent her diary to the human world, finds a friend and partner in the levelheaded and more cautious Nana.  They start by going to the land of magic and exploring the magic cave for treasure.  Then, they visit the Good Grade Apple Orchard, see a Werewolf race, help search for a missing prince under the sea, chase a rainbow thief, and go to visit a fortune teller.  Then a trip to Majoko's school goes wrong for Nana and some of Majoko's classmates, and they must work together to find a way back.  All of these adventures happen in the land of magic, Majoko's home world.  They are mostly self-contained stories, usually with some lesson or moral to be learned at the end, and isn't handled heavy handedly, thankfully.
While the stories are fun to read, it's the main characters, Nana and Majoko that will really appeal to it's target demographic, young girls.  Nana is friendly, but not as outgoing as Majoko.  She has a good heart, and is willing to step up to help out someone in need.  Her "thinking before acting" attitude is balanced against Majoko's "jumping in feet first" attitude.  Majoko is very confident in herself and her magic, tending toward boastful.  But, like Nana, she means well, and is always ready to lend a hand.
The art, like the stories, is simple but clean.  Speed lines are kept to a minimum, and screen tone is well placed to enhance details without going overboard.  The first few chapters also include color pages, which are done in soft, watercolor feel.  The panel layout is also kept simple, allowing the inexperienced in both reading and right-to-left layout to follow along easily.
Parents, teachers and librarians should have no problem with adding this title to their reading list.  Their positive messages and lack of violence will please all.  Girls 3rd-5th grade (ages 7-10) will love these stories.  Over 10, and they will seem too simplistic.  That's not to say they aren't enjoyable.  There is plenty of humor and head nodding that parents will enjoy reading this to, and with, their daughters.  Or even without.  I certainly did, though, I think a child will definitely get more out of it.  This is a great gateway title for children to the world of manga.